So you are looking for easy ways to make money, save money, and travel?
Well, you have come to the right place, my friend. It is vital to have multiple streams of income if you are looking for financial freedom.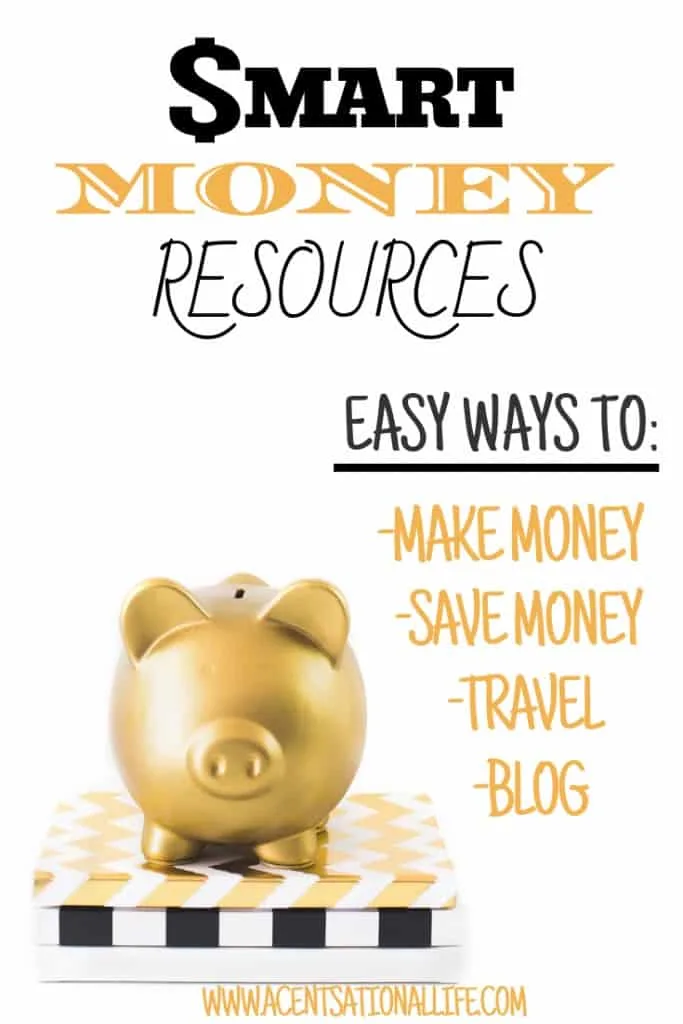 Here are some of the most valuable sites and apps that I use. By using these, you are contributing to your passive income stream to make money while you sleep.
Smart Ways To Make Money
---
Rakuten
---
So most of us shop online these days. Rakuten makes it super easy to earn money by online shopping with your favorite stores.
Sign in to Ebates, then click the store you want to shop. Shop online like you usually do, but earn cash back.
Seriously, like Ebates will send you checks of all the money you have made just by shopping at your favorite store.
Anytime I make a purchase online; I always check to see if the store is listed on Rakuten then I click thru to the store and make my purchase.
It takes 10 seconds, and you will earn dollars for those seconds! You can either get paid by check, PayPal or gift cards.
There are no surveys, no gimmicks, just earning easy money. Get a $10 bonus if you sign up for Rakuten today, and get cash back in your wallet!
---
Swagbucks
---
Swagbucks is a site that offers cash back rewards and gift cards for participating. It is an easy way to make money!
You can earn SB's (Swagbucks) by shopping through the app, surfing the web, watching videos, playing games or doing quick surveys.
It has popular stores like Kohls, Starbucks, and Amazon. For every dollar you spend at these stores you earn up to 20% cash back. You Can Get Free Gift Cards For Shopping, Searching and Discovering What's Online at Swagbucks.com!
You can even get the SwagButton on your computer to make things easier. Joining Swagbucks is a no-brainer because it is passive income from just your regular shopping and browsing.
If you have the time to scroll through social media, click on Swagbucks instead and watch a short video or play a game to EARN EASY MONEY.
Click here for a $10 welcome bonus just for signing up!
---
Airbnb
---
Looking for an easy way to make $$$, list your extra room, or even your whole house on Airbnb. That's right you can rent it out for a day, weekend, or even longer.
You can easily save for your own dream vacation by hosting others on their vacation. Enjoy the financial perks of hosting, and travel knowing your empty space is earning you income while you're away.
It is free to join and to list your place.
Check it out now to see how much people are making in your area!
---
Bestmark
---
If you have ever heard of mystery shopping, I am sure you must think it is a dream job that only the lucky can land. Bestmark is the leading mystery shopping company, ranked very positively with the BBB. They work with Fortune 500 companies to learn about customer experiences, therefore, hiring people to be mystery shoppers.
They are selective in who they hire after all this is a fantastic opportunity. Apply here to see if you are the perfect candidate to be a mystery shopper. Not only do they pay you top dollar, but you can snag free stuff like meals and products.
You can browse through your area and choose only what you want to do. If you go out of town, look up what Bestmark is offering. On our last vacation, we looked up what restaurants were on Bestmark, and got some meals for free.
---
Healthy Wager
---
Want to get in on the "dieting for dollars" craze and up your potential for weight loss success? Bet on yourself and start your HealthyWager today.
Then lose the weight and get paid, simple as that! HealthyWager (as seen on CNN, The Today Show, Good Morning America, and countless other media outlets) pays you to lose weight.
Get Paid To Get Healthy! Up To $10,000 In Prizes For Hitting YOUR Weight Loss Goal! Sign Up Now For A $100 Prize Boost!
Smart Ways to Save Money
---
Groupon
---
Oh, how I love Groupon
! From massages, dining out, personalized gifts, and even amazing all-inclusive resorts, Groupon has saved me thousands of dollars! Seriously, there are so many great activities and items listed that are deeply discounted.
Several years ago, I bought my very first Groupon for a salon and saved over $100! From there on, I was sold! They have so many deals, and they are legit!
If you want to go out to eat at a pricey restaurant, go on Groupon! More than likely, they have a $30 for $15 deal, which means you pay $15 for the Groupon, and you use that for $30 off of your meal.
Sign up for Groupon, because they also send out promo codes to all new members to save even MORE money!
---
Acorns App
---
The Acorns app is a nifty little app that helps us save and invest money. It merely rounds up your spending to the next dollar and invests the difference. You link your credit card or checking account.
This app is an excellent start for someone with no investment experience. It is so simple, and you can see your pennies being invested in your portfolio.
For example, I bought a coffee that totaled $3.79, my Acorns app rounded up to $4.00, and invested that $0.21 into my portfolio.
You can choose which transactions you want to be included in the "round up" or even just set a monthly amount. This is the easiest way to SAVE MONEY without having to think about it.
---
Target REDCard
---
Target is still one of my all-time favorite stores. They have great products, they price match, and they are on top of savings. The Target REDcard is a must have! It links directly to your checking account, just like your debit card, but it gives you instant savings every time you use it. Seriously, there are NO cons to it!
I use the target app on my phone to quickly load the manufacturer's coupons and Target's cartwheel coupons. If you use the app with your REDcard, you will save $$ every time you shop. Plus, as a REDcard member, you always get 5-10% off, and free shipping with no minimum. Save 5% and get Free Shipping at Target – Apply for a REDcard!
---
Ibotta
---
This app is ALL about saving your money because you easily make Cash Back on Everyday Purchases with Ibotta!
Before you shop in-store or online, click your Ibotta app and see the store offers. Then make your purchases and take a picture of your receipt for the app. Easy as that, and you get cash back. This works with groceries, apparel, travel, and more!
---
Digit
---
Digit is a little app that helps you save money. It's like having a personal accountant do ALL of your budgeting. There is no need to change your lifestyle, and it still lets you save. You can forget about saving money! Digit analyzes your spending and automatically saves the perfect amount every day, so you don't have to think about it.
Whether you have a goal of a trip to Paris, pay-off debt, or even a down-payment for a house, Digit can help you!
---
Trim
---
Wouldn't be awesome if you had a financial advisor keeping track of our unnecessary expenses? Seriously, how much money have you lost because you forget to cancel a membership or subscription that you NEVER use?
Trim is a financial app that helps you save money effortlessly. This little app is fantastic because it can negotiate your cell phone bill, cancel unwanted subscriptions, and it even has a debt payoff calculator. It can also get you credits on your cable/internet bills if there is an outage!
Saving money should be easy – automate it with Trim
and Sign-up free today!
Smart Ways to Travel
---
Trip Advisor
---
We live in a world filled with reviews. Reviews are beneficial when needing to make a decision. I have the Trip Advisor app, so I can read the good, the bad, and the ugly about any new place we decide to venture. Trip Advisor has millions of reviews of hotels, restaurants, and attractions.
Not only do they have reviews, but they also offer savings for some of the most popular destinations. Use this link to save up to 30% on TripAdvisor Hotels.
---
Booking.com
---
When researching different hotels, I love that Booking.com has them all conveniently listed with available dates and rates to compare easily. The app is even easier to use, and it also has bus and train schedules to make planning your trip a breeze.
Smart Ways to Blog
---
Namecheap
---
Looking for a cheap domain name? Namecheap is the leading domain registrar. Not only do they have a trusted business that you can count on, but they also have the best prices on the web. It is super easy to register your domain with Namecheap.
As I have mentioned in my post about How to Start a Money-Making Blog, you should always have your domain separate from your host. So check out the affordable prices and stellar support at Namecheap!
---
SiteGround
---
When it comes to hosting I am not shy about my love for SiteGround. They are hands down the BEST hosting company with their fast speed, affordability, and 24/7 customer service. I've asked all my blogging friends and they recommend SiteGround over all the other hosting companies.
Many bloggers will recommend another big-name host, only because they get a big referral bonus. I could suggest that host for that awesome bonus too, but I KNOW they aren't the best. Transparency and honesty are important to me, so I'm letting you know who is TRULY the best. With only $3.95 a month, you can have a great host, with no downtime, and SSL included for free!
---
Tailwind
---
Tailwind is a must for bloggers. When I first started blogging, my frugal side tried to spend as little money as possible. The truth is, you have to spend money to make money. After buying a couple of courses and signing up for a FREE version of Tailwind, my traffic skyrocketed. I made my money back tenfold!
Tailwind is a scheduling app, that schedules pins to Pinterest and/or posts to Instagram. Not only is Tailwind recommended by Pinterest, but it also has impressive analytics for your Pinterest account. You can see what pins AND boards are successful.
The ABSOLUTE BEST part about Tailwind is the Tribes. Just post your pin to a Tailwind tribe and as a return other tribe members will repin it. This is the EXACT way many of my pins have gone viral. For fast traffic results check out Tailwind for a FREE trial, no credit card needed!
---
Pinteresting Strategies
---
Like I said before when I first started blogging, I tried to research everything for FREE. There are A LOT of courses and ebooks out there. You must be careful because some are crazy EXPENSIVE and others can downright be SCAMS.
The very first ebook about blogging I purchased was Pinteresting Strategies. It has now evolved into an entire course that is updated regularly. Out of all the courses I have taken, this is the one I truly recommend for ALL bloggers. This one sets up your entire Pinterest Strategy for massive traffic and followers.
The writer, Carly, went from $0-$5000 on her blog in under a year. She now makes over $10,000 a month from her blog. She knows her stuff! She also teaches in a very conversational tone that anyone can relate to. She doesn't try to upsell you on other products either. When you decide to invest in any courses or books to help your blog take off, Pinteresting Strategies is the one to get!
---
Email Marketing
---
For any site, an email list is a MUST! With an email list, you have direct contact with your readers. It is the only way to reach out to your audience directly. Subscribers are more loyal because they have given you permission to email them. So they will be more than likely to read your new posts.
There are many companies that you can have your email list through, some are paid, and some are free up to 1000 subscribers.
HOWEVER, all of those that are "free" for the first 1000 subscribers start charging ridiculous amounts per the number of subscribers you gain. When I first started, I was with a really popular email marketer but then they started charging me $299/month!!
Thankfully, I found the holy grail of email providers because the price locks in and never increases no matter how many subscribers you gain!
If you can afford to spend $20/mo then check out Flodesk. I use and recommend Flodesk to all my blogging friends! It is so easy to use, and the price never goes up no matter how many subscribers you have! Guess what, Flodesk costs everyone else $38/mo, but I have a special discount that cuts the cost in half! That's right, you use Flodesk for only $19/mo no matter how many subscribers you gain!
All of the other email marketing platforms have substantial learning curves that are a total headache, and I know this from personal experience!
If you want my honest opinion, then go with Flodesk!
---
Long Tail Pro
---
Long Tail Pro shows you exactly which keywords people are looking for in search engines. It helps you find the best keywords for your website. If your goal is for your website to rank well on Google, then as a new blogger there is something that you need to understand: You want to tackle the keywords that are less competitive first to gain some traction in search engines and then move towards the keywords that are more competitive.
I use Long Tail Pro to help me rank on google to get the most organic traffic. Long Tail Pro's KC (keyword competitiveness) score has been rated the best in the industry, letting you know which keywords to tackle first.
If you want to rank well this is the MUST-HAVE tool that bloggers use for SEO. Try it out today, and use this link to get 30% off!!
---
Grammarly
---
As a blogger, your writing means EVERYTHING. After all, it is what you put out there for the world to see. Grammarly keeps you from making mistakes that could cost you to lose readers as well as brand deals. Most people use spell check, but Grammarly takes it much further, checking all grammatical errors. There are two versions, the free and the premium. The free will be sufficient, but the premium will help your writing look highly professional.
---
PicMonkey
---
Remember to get traffic quickly to your blog; you must use Pinterest. When using Pinterest, you need to design great-looking pins that stand out from the rest and that screams PIN ME!
The easiest software to make great-looking pins is PicMonkey. It is one of the easiest photo editor design tools. Not only does it have over 2000 templates, but you can also make just about anything with PicMonkey. I am not a graphic designer, but I have made a lot of logos using PicMonkey, and I even sold some of them. It is so easy to use! Want to see what New PicMonkey is all about? Sign-up for your free trial today!
---
Canva
---
To be a Pinterest guru, you need CANVA! I use Canva EVERY SINGLE DAY! I have it downloaded to my computer and my phone and I can switch back and forth seamlessly. Canva is the BEST app to make pins, Facebook posts, Instagram stories, and more! For my blogging business, I use Canva more than ANY other app!
There is a free version and a paid version. I use the paid one because it's only around $12/month and gives you access to thousands of amazing stock photos that you would have to pay for otherwise. So for $12 I have unlimited use of stock photos, unlimited use to free templates to make any social media post within minutes, and unlimited use of 100's of fonts.
You can even upload your own fonts and brand colors. I can make fast pins on the go using Canva on my phone, and trust me, that's how my monthly Pinterest views are over 1.5 million!
For more about blogging, be sure to check out my blogging tips.