Need extra money?
Could you use an extra $1000 per month?
Times are hard so finding flexible ways to make extra money could really improve your finances.
Luckily, this post explains how to make an extra 1000 dollars a month!
These are some of the best ways to make extra money every month when your budget is stretched and you need money fast.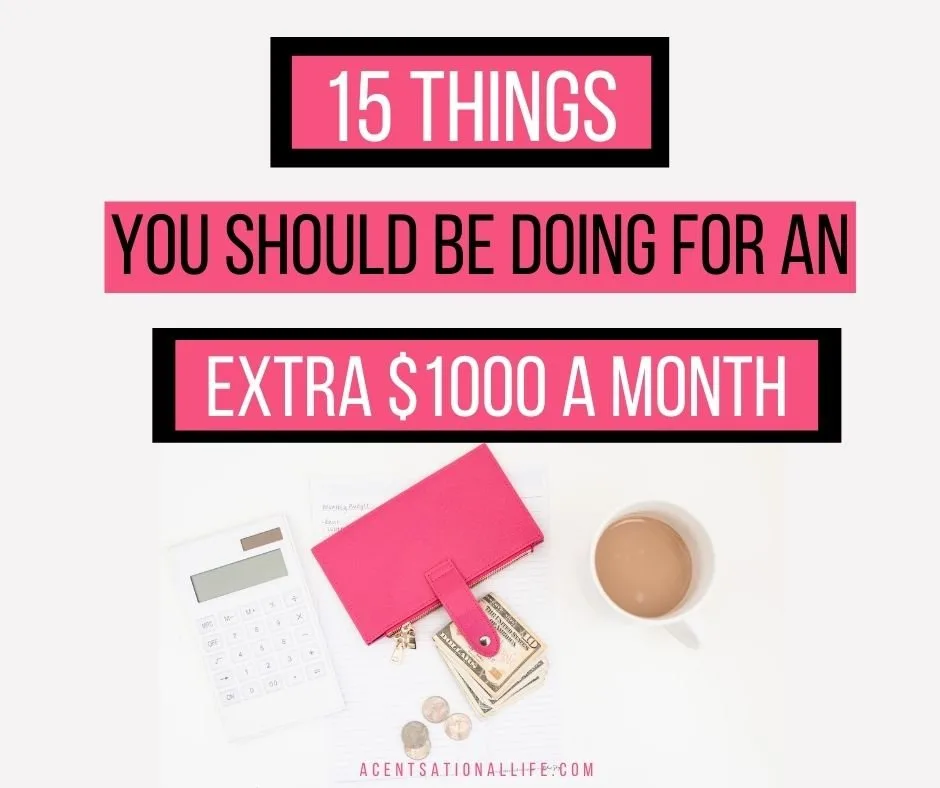 Making extra money every month can be such a stress-reliever when you are strapped for cash.
To some people, bringing in an extra $1000 a month may not seem like much, but for others, it can really make a huge difference!
Think about it, a thousand dollars a month is the same as an extra $250 a week! An extra $12,000 a year!
Making an extra $1000 could benefit you by:
Helping you pay off student loans
Saving for a much-needed vacation
Being able to afford healthier food
Relieving the stress of struggling financially
Being able to invest in your future
Help you stop living paycheck to paycheck
How To Make An Extra 1K A Month
Making extra money can even help make you healthier. When we stress over money it can really affect our health in negative ways.
I know when I started making some extra money I was able to sleep better and relax knowing I was able to pay my bills.
When money is tight and you can't pay your bills, it's hard to think rationally about how you can even begin to make more money.
Don't worry though, you don't have to pull an extra shift, you just have to commit a couple of hours a week doing small tasks.
So if you are searching for effortless ways to make extra money then here are 15 ideas that are guaranteed to help you make an extra $1000 a month or more!
Ways To Make Extra $1000 A Month Online
When you need extra money fast, but you don't have a lot of time to invest, try these money-making ideas and money hacks on how to get 1,000 dollars without breaking a sweat!
1. Make $1000/mo As A Virtual Assistant
Now more than ever businesses are hiring virtual assistants to do mundane tasks.
The great thing about being a virtual assistant is you can make your own hours and easily charge over $25/hr.
Basically, you do administrative work like writing emails or social media posts for businesses.
On the flip side, there is a new demand for people to hire their own personal virtual assistant to make phone calls, make travel arrangements, and help them stay on top of their budget.
Being a virtual assistant has countless opportunities that anyone can do!
If you're interested, then take this FREE online course to learn all about earning extra money as a VA.
2. Make Extra Cash Fast By Referring Friends
When your friends see how much money you save by using cashback apps then they will want to sign up too!
The good news is, that most cashback apps offer money rewards for referring your friends and family.
Get $25 dollars when you refer friends to Rakuten. It is a legit cashback app you should be using to make money on everyday purchases.
Earn an extra $5 for every friend you refer to Ibotta. It is another cash back app that helps you save on groceries.
Make an extra $10 for every person you refer to Swagbucks. It is a free site that lets you earn money for watching videos and taking surveys.
3. Get Paid 1k a month To Proofread
Do grammatical errors drive you crazy? Well, then I have a money-making idea for you!
Proofreading on the side is a quick way to make an extra $1000 a month from home!
The best part is it's very flexible and you can set your own rate.
Some proofreaders even charge $100 an hour, although the average rate is more like $25/hr to $50/hr.
Click here for a FREE 45 min. Proofreading Workshop that can get you on your way to making a great side income.
4. Make Money (extra $1000 a month) Off Investments
Investing your money is a great passive income source to make money effortlessly. If are you new to investing, then you should research how and what to invest in before you take the plunge.
What really helped us get a handle on how to make money investing was signing up for a monthly financial advisor newsletter.
It gave us all the information about what stocks were solid and the ones that were a true gamble.
If you just want to get your feet wet, then I suggest trying the Acorns app.
It lets you invest your spare change from small purchases into your own investment portfolio.
5. Get Cash Back & Sign-Up Bonuses
As I mentioned before, you can make a lot of extra money from using cashback sites on everyday purchases.
Not only will you make money referring your friends, but you can get fast cash by just signing up!
Not to mention getting up to 40% cashback!
6. Give Your Opinion
Make it a habit to take surveys during commercial breaks every time you are watching your favorite show.
Survey Junkie and Swagbucks are two easy money survey sites that you will pay you for your opinion.
Don't worry you can pick what surveys you want to participate in so you know exactly how much you will get paid before investing your time!
7. Cut Your Cell Phone Bill In Half – Save An Extra 1000 Dollars
Pretty much everyone has a cellphone, but are you overpaying for your cell service?
For years big-name cell phone carriers have been raising the prices of owning a cellphone.
When your bill has over $40 in fees, you know something's gotta give!
Guess what, there are other cellphone companies that have the same great service as the bigger names without the hefty price tag!
Tello offers plans starting at $5 and going up to $39/month for UNLIMITED talk, text, and data.
Mint Mobile offers UNLIMITED talk & text and 2GB of 4G data for only $15/month.
Be smart with your money and don't overpay for your cell phone!
8. Sell Books On Amazon – Make $1000 A Month
Selling books on Amazon is a very profitable side hustle that many people don't think of.
Think about it, the last time you bought a book, did you buy it from Amazon?
In fact, Amazon sells more books than any book retailer. Even college kids utilize Amazon's great prices and free shipping for college textbooks.
It is one of the best ways to make extra money because it is a passive income!
Grab your FREE eBook to help you understand exactly how to sell books on Amazon to make a profit!
9. Download A Money Making Pedometer
Most people walk on an average of around 5000 steps a day.
Why not get paid for something you already do every single day.
Download Sweatcoin to pay you for every step you take.
It is not something you can do alone to make an extra $1000, but if you do with some of the other things I have mentioned it will add up quickly.
10. Refinance Your Loans
Many of us are drowning in debt. Student loans and high-interest credit cards seem to be the worse!
You should combine all your debt into a lower-interest loan. It can save $1000's of dollars!
Check out Credible.com
to see if you can refinance for a much lower rate.
Don't' worry, checking your rate will not affect your credit score and can be done in minutes.
On the plus side, Credible offers the best offer guarantee, meaning they will pay you $200 if you find a better offer.
It's totally worth it just to check! You can either lower your interest rates or make a fast $200!
11. Get Paid $1000 For Pinning
Do you find yourself spending countless hours roaming Pinterest?
Why not get paid to make pins for Pinterest?
Yes, it is a truly legit way to make extra money every month! I know because I made money for years as Pinterest Va!
It's not hard at all.
You simply use a free designing program like Canva to easily make pins within minutes and upload them to Pinterest.
I charged $50/hr per client and only worked a couple of hours a week!
If you would like to get started making pins for profit, take this FREE workshop!
12. Get Paid To Deliver Food
One side hustle that is in huge demand is delivering food! In fact, they are hiring now more than they ever have!
So if you would like to make some extra dough, then signup to be a Dasher
!
DoorDash is an excellent company to work for and not only will you get paid by the hour, but you can keep all your tips!
How To Make An Extra 1000 A Month From Home
Now if you need 1000 dollars fast then you a side hustle with a quick turnaround!
13. Flip Shoes
Our society spends a lot of money on shoes. I mean we are on our feet all day, so we need high-quality shoes.
Not to mention the loads of money people spend on name brand shoes. What if you could get in on that action?
Shoe flipping is genius. You basically, find super awesome deals on brand-name shoes and then re-sale them for a fast profit.
Rob Stephenson makes bank reselling shoes on eBay. He has a FREE webinar that explains exactly how to create a side income from shoes.
Shoe flipping is a great way to make $1000 fast!
14. Resale Yard-Sale Finds
This is an easy way to make extra money! One person's trash is another man's treasure.
Scan the local ads or Craigslist for local yard sales and go see what you can find to resell on Amazon, eBay, or Facebook Marketplace.
Check out how Stacy Gallego makes $60,000 a year from flipping her yardsale finds.
15. Cut Your Credit Card Debt In Half
If you are up to your knees in credit card debt, then saving money on your credit card payment can really help out when you are strapped for cash.
Many people are paying so much unnecessary money on high-interest rate credit cards. If you are one of these people then maybe you should check out Tally.
Tally is a financial management app that reviews all of your credit card payments and helps you consolidate them into a lower APR rate.
Also, check out the Trim Financial Manager app. It is FREE and helps you figure out a spending plan to cut down on your expenses.
How To Make 1000 Dollars Fast
Now you have 15 ideas to earn an extra $1000 a month.
Many of these ideas will help you make $100o dollars fast!
Of course, some of these ideas make more money than others and some require less effort.
Pick out what money-making ideas work for you and start making extra money.
If you just don't have time to do an extra hustle then do everything possible to cut your bills down. Remember, saving money on unnecessary expenses is like putting money back in your pocket!
If you want to stay up-to-date on new ideas to make money then sign up here to never miss a chance to make extra cash!
Bonus: More Ways To Make 1000 A Month (0r more)
18 Money Hacks To Get Free Money
Do you have any smart ways to make an extra $1000 a month? Let me know in the comments!