Need to know how to make $100 a day?
Find Out How To Make Quick Cash Fast With Creative Side Hustles That Can Help You Make $100 A Day or More!

Searching for how to get money fast? How can I get $100 right now? Or how to make $100 a day online?
Awesome, you are in luck, my friend, because there are plenty of money-making side hustles to be found!
Many people are searching for ways to make quick cash, but it's hard to know what is legit or where to even start.
The good news is there are so many creative side hustles to make extra money, that there is no reason to be broke.
It doesn't matter if you already have a job, you are a college student, or even if you are a stay-at-home mom, there is a hustle for everyone.
First off, you need to get into the mindset that you should always be making money on the side.
Always!
One lesson the world learned in the wake of recent events is that depending on one paycheck to meet all your financial needs can destroy you in one day.
Never depend on having one source of income!
Having a side hustle that makes at least $100 a day can change your life for the better by:
Relieving the financial burden.
Finally being able to stop struggling to pay bills.
Leaving a situation you hate (whether that be a job, relationship, or where you live).
Giving you the freedom to start pursuing your dreams.
Giving you peace of mind.
So are you ready to make $100 dollars fast? Great, let's get started!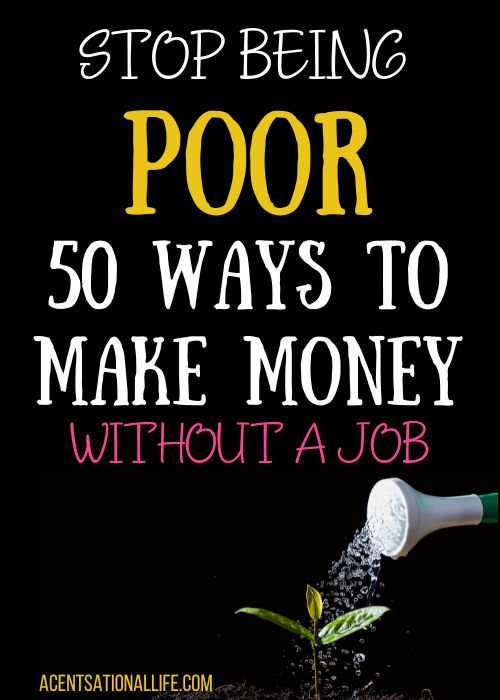 How To Make $100 Dollars A Day: Creative Side Hustles To Make Money Fast
Quick ways to make money online or at home. Legit money-making ideas if you need $100 dollars now! Multiple streams of income to start your journey towards financial freedom.
Creative Ways To Make Money Online: Make $100 A Day
1. Be A Pinterest VA
Do you like pinning on Pinterest? Most people do.
What if you could get paid to pin?
Yes, you read that right.
Pinterest is a booming network with millions of followers. Pretty much every single blogger and business is on Pinterest.
Trust me when I say that these bloggers and businesses have a million other tasks to do, so many of them hire out virtual assistants to run their Pinterest accounts.
I know for a fact you can make more than $100 dollars a day as a Pinterest Va because that's what I did before becoming a full-time blogger.
I charged $50/hr per client!
Each client only needed me a couple of hours a week.
That's pretty awesome for a fun side hustle.
If you are interested in learning more about being a Pinterest Virtual Assistant, then check out this FREE workshop on how to get started!
2. Invest In Stocks
Investing is a no-brainer way to make easy money on the side!
In fact, it is the #1 passive income source you will ever find.
That being said, investing your hard-earned money can be scary. When the markets crashed several months ago, many people lost a lot of money.
On the flip side, many people bought stocks the day after it crashed for some of the lowest amounts ever on record!
So how can you know what stocks are a safe bet, or what new stocks you should buy into hoping they will be the next billion-dollar maker like Microsoft.
The answer is the Motley Fool Stock Advisor!
If you have ever googled "how to make money investing", then you have seen the Motley Fool website and you know THEY KNOW the ins and outs of investing.
Seriously, take a peek at all their free investment articles that will teach investing 101!
The game-changer is the Stock Advisor newsletter that tells the ins and outs of every stock. It's like having a financial advisor on call for only 1/10 of the price.
My husband stays on top of our investments and he credits everything he knows about investing to the Motley Fool Stock Advisor newsletter.
So if you are interested in getting ahead of the game and know about what stocks are projected to be successful then you NEED to join the newsletter!
They have a 30-day money-back guarantee which is why my husband signed up, but he loves it so much and uses it all the time.
If you are on the fence about it, guess what, my readers get an exclusive 50% off when they sign up through this link.
3. Sign Up for Bonuses To Make Easy Money Fast
So sign up for all these free accounts to make $45 in free money, then refer two friends to Rakuten and make $50! It may not be $100 in a day, but it sure is close!
4. Earn High-Yield Interest On Savings
So hopefully you have a savings account, but if you just have a regular savings account then you are only earning pennies.
CIT bank's rate is 10 times higher than brick and mortar banks. CIT is FDIC-insured and your money is always accessible whenever you need it.
If you are lucky enough to be saving money, then you need to put it where it counts!
5. Start A Blog
Yes, you knew you would see something about starting a blog. I promote it because it's just such a creative way to make easy money!
You can blog about pretty much anything!
Everything is online, so why not grab your own piece of the World Wide Web?
Now of course some blog niches are more popular than others, but you really can make A LOT of money blogging!
Just don't knock it, until you try it.
You can start a blog with the best host!
Go read my FREE guide on how to start a money-making blog the right way!
Then read this step-by-step guide on how to profit from a new blog!
6. Sponsored Posts
Another easy way to make money blogging is by writing sponsored posts.
However, you don't have to have a blog to get sponsored by brands.
Brands love to sponsor social media influencers. Instagram is hugely popular for sponsored posts.
Most brands pay well over $100 for a sponsored Instagram post.
So if you have a following, then reach out to some popular brands about potential sponsorships.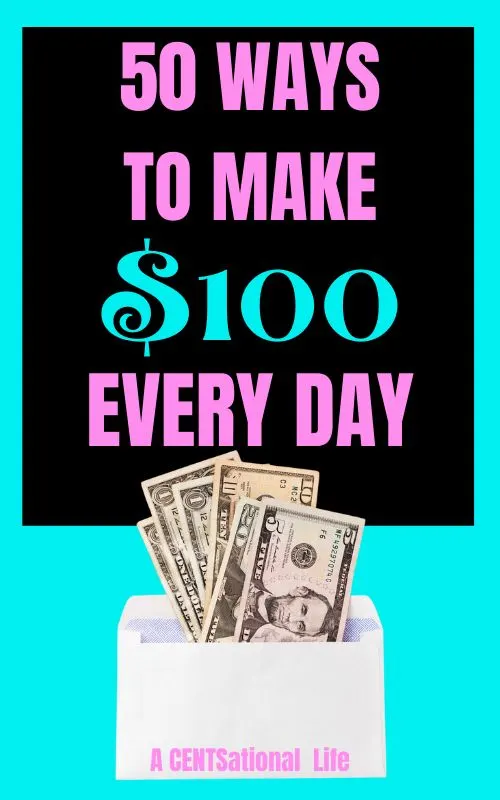 7. Affiliate Marketing
Another great way to make money blogging is by affiliate marketing.
Affiliate marketing works by companies paying you to promote their products.
Just like sponsored posts, you can still make money with affiliate links on social media even if you don't have a blog.
Find out more about how to make money with affiliate marketing with this blogger's guide to profits.
My absolute favorite affiliate companies that pay well and make it so easy for you are FlexOffers and Share-A-Sale.
8. Selling Printables
Are you good at graphic design? Then you could make a killing by designing printables.
Digital printables are a hot commodity and are so easy to make.
Even if you don't' have a graphic designing background, sites like Canva make it super easy!
Make printables and sell them to make a passive income in your own shop or your own Esty shop.
9. Make $100 Dollars Fast As A Proofreader
With magazines, news outlets, and pretty much everything going online, proofreaders are in high demand!
Many proofreaders offer their services for around $120/hr. That is an easy way to make $100 a day!
Check out this FREE course to see if proofreading from home is right for you.
Even if you don't think that you are that great at proofreading, apps like Grammarly AKA The World's Best Automated Proofreader can do the job for you!
Make 100 Dollars Today
10. Make Quick Money In One Day As A Virtual Assistant
Everything is online. Everything!
Businesses all over the world hire virtual assistants every single day. In fact, it is becoming so popular that universities are now offering VA courses.
The best part is you can do it from anywhere!
As long as you have access to the internet, you can work from your bed, your couch, or even on the beach (well if you can find wifi).
Kayla Sloan has been earning a consistent $10,000 a month as a virtual assistant for over 3 years.
She offers a FREE 5-day workshop on how to get started as a Virtual Assistant to earn a consistent income from anywhere.
11. Flip Domain Names
This is an easy one!
A domain is the name of a website. For instance, my domain is acentsationallife.com.
The domain carinsurance.com sold for almost $50 million. Seriously some really smart person bought that domain years ago and sold it to become a millionaire.
The domain vacationrentals.com sold for 35 million!
Now, you probably won't luck out and find domains like these but if you think creatively and out of the box you can come up with a smart catchy name that at some point someone will want to buy from you.
Start your domain search and look for names that you know will sell.
I recommend only investing in .com domains because those are the ones that people really want.
Get your .com for just $8.88 with Namecheap!
12. Start A Niche Site
So if you aren't really interested in starting a blog, then start a niche site.
Niche sites are targeted for a specific audience.
For example, you could have a niche site that only compares gas grills.
At some point, Google will find that your site is very knowledgeable about gas grills.
So when someone googles "best gas grill" chances are, your site will show up.
Then you can monetize by having affiliate links to the gas grills you recommend.
So think about it, there are millions of ideas for niche sites.
Do your research, and find the best topic!
Easily make a niche site today!
13. Transcribe
Transcribing is a simple side hustle that can help you make extra money fast!
It has a low start-up cost because you only need a computer and an internet connection! Pretty much everyone has that now!
There is a high demand for transcription services, as many businesses, bloggers, and podcasters need written transcripts of their audio or video content.
This means that there are plenty of opportunities to find work as a transcriber.
Transcribing offers a high degree of flexibility, as you can work from anywhere and at any time that suits your schedule. This makes it an ideal side hustle for anyone with other commitments during the day.
Transcribing is a simple side hustle that offers a high degree of flexibility, low start-up costs, and quick payment.
If you have good listening and typing skills and attention to detail, transcribing can be an excellent way to earn extra money fast.
Check out this FREE Transcribing Course to get started today!
14. Teaching Online Classes
There are a lot of ways to make money teaching online.
Few require you to have a college degree and some don't.
You can make up to $10,000 teaching online with Outschool.
It is a free platform you can easily make money with Outschool Teacher Pay.
15. Flipping Websites
Flipping websites is a smart way to make extra cash.
It's kind of like flipping houses, but it's websites.
People start websites every day and never do anything with them. So rather than giving up completely, they sell them.
Basically, you buy a low-performing website for cheap, improve its content, SEO, and design, and then sell it for profit!
16. Earn Cash Back
A little creative way to make money without even thinking about it is to earn cashback on all of your purchases.
My favorite cashback sites and apps:
Ibotta: A FREE app to earn cashback on in-person and online purchases like groceries, apparel, and travel.
Rakuten: It's completely free and legit, I use them all the time! Earn 40% back at thousands of stores.
Fetch Rewards: Remember, I mentioned this one before. It is a completely free app to make easy money by scanning your receipts.
17. Invest In Real Estate
You can make money in real estate investing by renting out properties and flipping houses.
Renting out properties can provide a steady stream of cash flow while flipping houses can provide a quick return on investment through buying, renovating, and selling properties for a profit.
Watch this FREE Webinar on how to invest in real estate with little money upfront!
18. Sell Pictures
Do you like taking pictures?
With this online world growing every day, stock photos are in big demand. I have spent $100's on stock photos for my website.
Using a site like SmugMug makes it super easy to post and sell your photos.
The best part is, that most new smartphones take amazing pictures, so you don't even need an expensive DSLR camera.
19. Use Your Voice
Do you have a unique voice?
Getting paid to do a voice-over is a lucrative side hustle because companies all over the world are hiring voice actors.
BunnyStudio is a website that matches voice actors with companies looking for a particular voice.
20. Watch Videos
In your spare time, pull out your phone and watch some videos.
Swagbucks is a site that pays you to watch short videos or take surveys.
It's an easy way to make money when you are just wasting time, like during a commercial break or while sitting in a waiting room.
It's completely free and legit, I use them all the time!
21. Take Surveys
Survey Junkie is another site that will pay you just to take surveys.
Don't worry you can pick what surveys you want to participate in so you know exactly how much you will get paid before investing your time!
It's completely free, and the easiest way to make cash on the side!
22. Make Videos
If you don't already know, YouTube is a smart side hustle that can bring in a lot of money!
I am sure you have heard about Ryan's Toy Review, well it is the highest-paid YouTuber making $26 million a year!
So grab your cell phone and make some videos. There is pretty much an audience for anything.
My friend loves to watch videos of people eating, I don't get it, but those videos have millions of views.
If you need good editing software to make your videos try a FREE trial of Animoto.
23. Sell Your Hair
With long hair being the trend, women will pay ridiculous amounts of money for "real" hair extensions.
So if you have long hair, that has not been color processed or permed, then look into how you can make some quick cash.
Seriously, there are many listings on eBay going for over $100.
24. Sell T-Shirts
You can make your own T-Shirts using a Cricut machine and sell them in your own shop!
Or if you don't want to deal with making and shipping the shirts, you can partner with Printful.
You design the shirts and again sell them on Esty or Shopify but Printful makes the shirt and ships them for you.
So you are just the middleman!
25. Make Money Fast By Referring Your Friends
Referring your friends to sign up for FREE apps to earn money will help you both make money. Win-win!
Swagbucks: Offers a $10 bonus and referral rewards for everyone you invite.
Rakuten: offers a $10 welcome bonus and $25 for referring friends and family members.
Creative Side Hustles To Make $100 Fast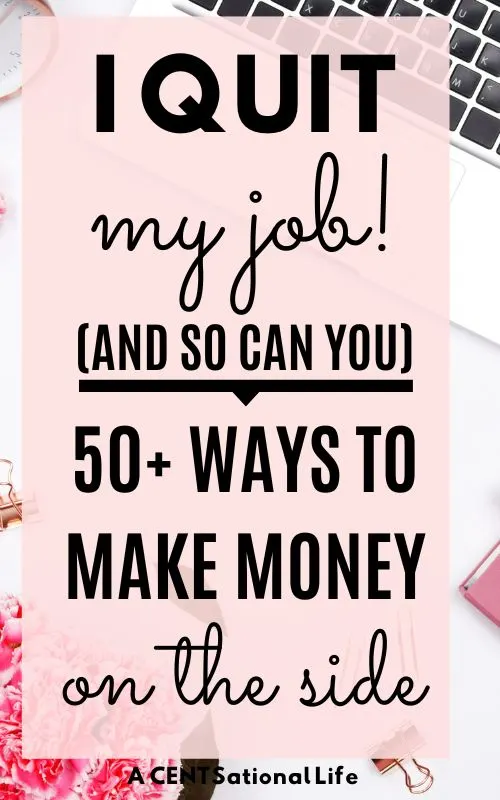 26. Deliver Food
Now more than ever, people are relying on Door Dash to feed their families! Signup to be a Dasher
and make some really good money!
Not only are you paid hourly, but you can keep all of your tips! You don't even have to have a car, if you live in an urban area, you can use a bike!
Stop giving your hard-earned money back! Deliver for DoorDash with your bike to save on gas, parking and tolls & keep what you earn. Apply today!
27. Have A Yard Sale
Yard sales aren't a thing of the past. In fact, they have gained more popularity with HGTV shows showing people how to find yardsale treasures.
In fact, braking for yardsales is becoming quite the trend!
So grab your unwanted junk, and set up a little space outside your home to sell it.
Don't forget to advertise your yard sale on social media, including Facebook Marketplace. Make sure to highlight your most valuable items!
Read about how Stacy Gallego makes $60,000 a year from flipping her yardsale finds.
28. Be A Dumpster Diver
OK, I get that doesn't sound too glamorous and it is pretty gross, but it is lucrative!
I am not talking about checking the landfill or the dumpster outside of the nasty gas station on the corner.
I'm talking about going for the gold!
Checking the dumpsters of the big retail stores. No don't dive in, but do lift the lid to see what you can find.
Many times you will find BRAND NEW items still in their box! List it on eBay or Craigslist!
Now I don't really know if it's legal or not, but I know a lot of people do it. So be smart and check out the laws where you live before you start.
Read how to make the most money with your dumpster finds!
29. Fix Cars
Are you mechanically inclined? Then easily make $100 by doing a small fix on someone's car.
We have a family friend that has made a whole business out of fixing cars, lawn-mowers, and ATVs all out of his own workshop.
With dealerships charging out the wazoo, many people would love to find a good mechanic that charges a little less!
Advertise your rates on the Thumbtack App
!
30. Sell Your Poo
Now you may have read in my last list of Creative Ways To Make Money that OpenBiome pays people up to $13,000 a year for stool samples.
Well, selling poo is catching on!
Australia even has its own public stool banks that will pay donors just like blood banks pay for blood.
The real clicker is a company called Tushy which is looking for a spokesperson to talk about their daily bathroom habits. They will hire you for $10,000 for 3 months!
That my friend is a really easy way to make $100 a day!
31. Get Your Glow On
I have a friend who went to school to be an Esthetician but who found her calling in being a Mobile Spray Tanner instead.
She travels to beauty competitions, weight-lifting competitions and offers her services to pretty much everyone.
My friend invested in a good tanning airbrush and advertised her services on social media. She now has a huge clientele and has grown into a six-figure business.
32. Be A Tour Guide
Do you know your city frontward and backward? Well, there are plenty of people who may visit your town looking for a tour guide.
You can take them on a tour of historical sites, famous places, celebrity homes, or even a nightly haunted tour.
Come up with a fun tour that you know will attract people and advertise your services.
33. Be A Street Performer
I went to college with a guy that would stand outside the local arena after big events like concerts and basketball games, playing his saxophone.
When the event was over, he would be playing his heart out with a basket beside him for donations.
The crowd was always in good spirits after just attending a fun event, so they were very generous with their donations.
He easily made a couple of hundred dollars every single time. It was a great way for a college kid to make $100 a day!
33. Get Paid Easy Money To Stay In Other People's Houses
House sitting is an easy side job!
People may hire you to feed pets, water plants, or just keep the lights on.
Check out TrustedHousesitters for local listings.
Or make it a creative side hustle by checking listings in faraway vacation spots. Get paid to stay there!
34. Remove Spells
Yes, you read that right. Believe it or not, people sell their "spell removing" capabilities on Fiverr!
That shows you that Fiverr is a place you can pretty much sell any service.
There are even listings for being someone's social media girlfriend for a day?
Talk about a creative side hustle!
35. Take Care Of Pets
If you love pets, Rover may just be the side hustle you have been looking for.
So many people have pets and are looking for people to hire for dog walking, grooming, house-sitting, or pet boarding.
Another creative money-making hustle is making dog treats! Check out this FREE training on how to start your own dog bakery business!
36. Perform At Parties
When you were a kid did you like to put on little shows where you performed and maybe even did some magic tricks?
Well, guess what, as an adult, you can get paid to do that!
In fact, the lady that I bought my house from did just that.
She had clown costumes, Disney princess costumes, and even superhero costumes.
The best part is she charged $200 an hour! That's right, she got paid $100 every half hour to perform for kids!
She usually only worked on the weekends, but if she worked several gigs a weekend she easily brought in $1000.
I asked her how she got started and she said by word of mouth and social media.
So if you like entertaining kids, this might be your best way to make $100 dollars fast!
37. Sell Unwanted Stuff
Have you ever roamed the Craigslist For Free posts?
There are plenty of quality things that people want to get rid of.
Be smart, and get the goods to resell on Facebook Marketplace, or if it's small enough, eBay it.
Don't stop there, sell your unwanted junk as well!
One man's junk is another man's treasure!
Go through your home and gather all the stuff you don't need or use. Don't throw it away, sell it!
If it happens to be electronics, books, or games then sell it on Decluttr to make the most!
38. Sell Books
A very underrated side hustle is to selling books on Amazon!
Millions of shoppers go to Amazon every day looking for great deals. Basically, everything is sold on there.
You can actually make a lot of extra money if you know how to get hold of quality books for a cheap price.
Take advantage of this FREE eBook on the ins and outs of selling Amazon to make a huge profit!
39. Teach Music
Can you play a musical instrument?
My kids all take music lessons, and let me tell you they aren't cheap. I have paid $20-$75 a lesson depending on the instrument.
So if you are musically inclined, sell your skills, and you can easily make over $100 daily!
Advertise your services on Thumbtack!
40. Be A Freelance Writer
If you enjoy writing or just have a knack for it, there is a huge demand for freelance writers everywhere you look!
Magazines, webpages, news outlets, and bloggers all hire freelance writers.
You can pick your niche or get as creative as you choose. There are so many topics to write about!
If you feel that this would be the best side hustle for you, then check out this free course by Elna Cain.
Elna Cain has had a successful side hustle as a freelance writer for years! She knows the ins and outs and doesn't try to exaggerate the earning potential of freelance writing.
41. Lose Weight
There is a new healthy incentive program that really pays people to lose weight! It's called HealthyWage!
You may have already seen it on The Today Show or Good Morning America.
It is taking over social media with so many people posting their before and after photos, and even pictures of their checks!
Some people have made up to $10,000!
It sounds too good to be true, I know, so I did some investigating and wrote a whole review about HealthyWage.
Guess what? They are totally LEGIT!
An easy way to make money and get healthy at the same time!
How can I get $100 right now?
42. Download Money Making Apps
If you really want to know how to make quick money in one day, then download this list of money-making apps!
Everyone has a phone, so you might as well be making some easy money with it.
43. Flip Cars
My friend's son is only 20 and makes several thousand dollars a month by flipping cars!
He buys cars at a local auction. Does some minor repairs and resell them for profit!
44. Make Money Crafting
Some people are really talented in craft making. I am not one of them.
But if you are, then, there is a whole market out there for you!
In fact, you can make a lot of money from just making simple crafts.
Get some ideas and learn to make tons of crafts for free with Creative Bug!
Sell your crafts on Etsy because millions of people visit Etsy every day looking for one-of-kind crafts!
Click here to get your first 40 Esty listings FREE!
Or you could sell your crafts on the side of the road. I often see a man on the corner who sells wreaths that his wife makes.
45. Offer Photography Mini-Sessions
Photographers are in huge demand. Pretty much anyone can be a photographer these days.
We recently hired a lady to take some family portraits. It was a mini-session that only took 15 minutes.
She charged $50 and emailed me the edited pictures a week later.
She offers these mini-sessions several times a month, and books enough people to make a full-time income!
If you are interested in starting a photography business then try this FREE online photography class.
46. Selling Sandwiches
Did you know that Paula Dean started selling sandwiches she made right out of her kitchen?
Well, I know someone who sells hot bologna sandwiches and hot dogs Monday-Friday near busy construction sites.
She makes a couple of hundred dollars every day!
47. Sell Your Notes
Are you in college or a college grad? Then chances are you have taken some pretty extensive notes.
Study Soup will pay you up to $500 for those notes!
Not too shabby!
Sign up to get $5 right now!
48. Sell On Esty
Many people are making $100 a day selling on Esty.
In fact, I just opened up a shop myself.
You can pretty much sell anything!
There is even a huge demand for vintage finds, that you may find at a local yard sale.
Look here to find out how easy it is open a shop and get your first 40 Esty listings FREE!
Check out plenty of FREE crafting tutorials on some of Etsy's best-selling crafts!
49. Sell Scrap Metal
My cousin weighs trucks that come into the junkyard.
She said that random people bring in old appliances, and just any old metal junk they find and get paid by the weight of the truck.
So you could make around $25 for an old washer, $30 for an old refrigerator, and so on.
It sounds like a dirty job, but it's a genius way to get money fast!
Read 3 Tricks To Make Money Scrapping Metal!
50. Make Money From Walking
Yes, there is an app that pays you for every step you take! SweatCoin is a FREE app that everyone should download.
No, you won't make a lot, but you will make some money that will add up.
Getting paid for your steps is fantastic, so if you have this little app downloaded on your phone, eventually, you will make enough money to cash it out on Paypal!
As a bonus, you will make more money by referring your friends!
Creative Side Hustles Ideas Make $100 Per Day
So if you made it through this huge list, you should know how to make $100 a day!
Remember, there is plenty of money out there, go make some of it yours!
Don't forget to use some smart money hacks to get free cash!
If you want to stay up-to-date on new Money-Making Ideas then sign up here to never miss a chance to add some cash to your pocket!
Plus, you can check the SMART MONEY RESOURCES page for more financial tips.
Now, let me know in the comments if there are any creative side hustles that I may have missed! Or tell me what you are going to do with your extra $100 today!
More Ways How To Make $100 A Day From Home Or Online
25 Real Ways To Make Money From Home
18 Money Moves To Get FREE Cash