Smart money making hacks and money saving hacks to snag some free cash and take control of your finances!
So let's dive into some money saving hacks to make life easier.
And of course, some money making hacks to put more money in your wallet.

Who doesn't like free money?
Well, there are plenty of ways to find free money that doesn't require taking a metal detector to the beach.
Today, I am going to introduce you to the BEST MONEY HACKS to get free cash and get your finances under control!
How To Get FREE Money Now
So how do you make your money work for you in 2022?
Simply by budgeting your spending, having multiple sources of income, and using free money hacks that work!
If you want to take control of your finances then you need to make your money work for you by finding ways to get free money now.
Did you know that 4 out 5 Americans are living paycheck to paycheck?
So most people pretty much know what being broke feels like.
It is a huge stressor!
It can fill like a million pounds on your shoulders when you can't afford to pay your bills.
That is why we all need some financial life hacks to get FREE MONEY and get out of the paycheck to paycheck cycle!
Truth is, if you don't get serious about your finances, your finances will never be serious.
As we know, money may not buy happiness, but it can make you feel safe and secure and that is an amazing feeling.
Just using some of these money hacks will make a huge difference to help you improve your financial situation.
One money-making tip you need to remember is to always have more than one source of income.
When I started making money on the side is when things really turned around for me.
It is such a huge relief to know you can depend on more than just your regular paycheck.
Always remember this mantra, "many small streams will form a big river."
In fact, write it down and put it somewhere you will see it every day.
How Can Easy Money Hacks Help You:
Breaking the paycheck to paycheck cycle.
Helping you use some frugal life hacks to keep more money.
Be more successful in life!
Finally being able to pay off student loans and other debt!
Smart money life hacks will help you save money today for the life you want tomorrow. The more you save, the more money you have.
Most importantly, they can help you get FREE money!
Money Hacks That Actually Work 2022
There are so many money moves to make your money work for you!
From cash back on your everyday purchases to money-making apps, smart money moves will help you get free money!
Another easy way to get free cash is to lower your bills so you are not wasting money on unnecessary expenses.
When I stopped spending money on useless stuff, I started achieving my financial goals!
So are you ready to improve your finances and get some free money?
Awesome! Let's put these money-making hacks to use!
18 Best Money Hacks To Get Free Money
Smart money moves to get free cash and stop struggling financially!
Be smart with your cash to start saving for a better life.
Money Saving Hacks
Money-saving moves to skyrocket your savings account. Simple financial tips to save money and achieve your financial goals.
1. Ditch High Interests
Do you have student loans or credit card debt?
If you said yes, you are not alone.
Most people are so deep in debt that it's hard to see a way out.
Check your interest rates. If you have HIGH rates then you need to do something ASAP.
Paying high-interest rates is just like throwing money away.
Check out Tally because it will help you pay off debt smarter and faster!
If you want to lower your interest rates and save $100's on interest then Tally is one of the best resources.
Also, if you are paying out the wazoo in student loans, read this list of smart money hacks to pay off student loans fast.
2. Stop Over-Paying For CellPhone Service
Are you spending over $100/month on your cellphone plan? You don't have to, in fact, you can cut that down by half!
When I was with a big-name cell phone company, my bill was over $150 a month for just two lines.
Note, that's not the amount I was promised when I signed the contract. However, every month I was paying over $40 in fees.
According to the U.S. Bureau of Labor Statistics (BLS), Americans spend an average of $1400 a year on cell phone bills.
Not to mention the actual cost of a cell phone. These ridiculously expensive cell phone bills really can put a dent in our wallets.
Why do we pay so much?
We keep paying for these over-priced plans because we are all very dependent on our phones.
We use them daily, hourly…we pretty much use them all the time. From talking to texting to searching the web, they are our portable hub to society.
The big-name carriers like At&t and Sprint have been able to keep cell phone plans so expensive because they haven't had much competition.
That is until now.
Tello Mobile is one of the cheapest plans you will ever find. Their plans range from as low as $5/ month for their thrifty plan to just $39 a month for the unlimited talk, text, and data plan.
Don't let their super low price scare you away, they are a legit cell phone company with great benefits.
Tello has a plan for every budget.
Don't worry about dropping a call, Tello Mobile uses Sprint's towers for network coverage. This means your coverage would pretty much be consistent with what Sprint offers – which is massive coverage!
You can easily check the Tello Mobile coverage in your area
.
Another way Tello helps consumers save money is they do not charge activation fees or make you sign any contracts.
Not to mention, Tello is the only wireless provider with a 5-Star rating and excellent customer service.
With the unlimited talk & text, plus 1GB data for $10 a month you can save over $1000 a year with Tello Mobile.
Use this smart money hack to stop overpaying for your cell phone plan and put that money to better use.
3. Have An Emergency Fund
It's tempting to want to live the YOLO lifestyle, but we all know that life is unpredictable and unexpected things can arise at any time.
Having an emergency fund is vitally important to your financial well-being.
Not only can it save you when you need it the most, but having money saved for an emergency gives you peace of mind.
This is why having an emergency fund is a smart money life hack that should be a priority.
If you need a little help, then use the Financial Freedom Planner to help you plan and achieve your financial goals!
Now if you are already struggling with money then you may think that saving for an emergency is impossible to do.
Trust me you can still save money even when you are totally broke by utilizing some smart money-saving hacks.
Cut all the corners you need to start putting some money back because if you save money now, it will save you when you need it the most.
Sign up here to get access to free savings trackers and more to help you stay on top of your budget!
4. Have A High Yield Savings
If you already have a savings account, then you are on your way to financial success.
Unfortunately, most banks offer very low rates for a regular savings account.
CIT offers high savings interest rates that have been among the highest available nationwide.
Having your money in a savings account that is earning a high-interest rate is passive income!
CIT bank's rate is 10 times higher than brick and mortar banks.
CIT bank is a legit financial institution that is a subsidiary of CIT Group, Inc.
Check them out, because if you are lucky enough to be saving money then you need to put your money where it counts!
5. Keep Track Of Your Spending
So you already know that you really should keep track of your spending.
More than likely, you have a lot of unnecessary spending on frivolous things.
When I started tracking my spending, I realized how much money I wasted (sign up to grab my FREE spending tracker).
I am embarrassed to admit I spent over $100 a month for iced coffee at my favorite coffee shop.
That's right, no-frills coffee, no foam, no drizzle, just plain iced coffee.
So I was paying someone over $1200 a year to pour a cup of coffee over ice. That little rude awakening helped me stop wasting money and let me pay off debt sooner.
You don't have to be an accountant to keep a budget or keep track of all your debit swipes.
You can use free apps like Steady to keep track of your spending and even boost your income!
Or download the free app SaverLife.org to get cash rewards just for saving money!
Budgeting apps are great at helping you stick to your budget.
There are so many FREE money-saving apps that you can download to your phone to help you put money back into your pocket on the daily basis!
6. Cancel Subscriptions
Around every corner, you will see "Start your free 30-day trial now!"
Then with full intention to cancel before the 30 days, you sign yourself up.
No judgment, I do it too.
The thing about these "free trials" is that these companies bank on the fact that people will either love the subscription enough to keep it or they are too busy to remember to cancel it.
Think about it, how many things are you subscribed to that you DO NOT USE?
Or how many subscriptions are you paying for that you could potentially get for FREE?
There are plenty of ways to get around paying subscription fees.
Look into apps like TrueBill
and Trim
.
They both are bill negotiating apps that can cancel unused subscriptions AND they can get your monthly bills lowered.
7. Live Below Your Means
Living below your means is the smartest life hack for saving money.
The reason so many people are in debt is that they spend more than they earn.
When you spend less money, you are able to save money for the things that are important to you.
Frugal living does not mean you must feel deprived, check out over 50 frugal life hacks to save money while still living your life.
8. Always Check Your Financial Statements
It's easy to put your bill payments on auto-pilot and forget about them.
It definitely is a convenience, but you must never forget to check your bank statements and credit card bills.
There are scammers everywhere that would love to get a hold of your card number so they can make a fake card and run up YOUR credit bill.
Always check your statements for fraudulent charges because it happens ALL THE TIME.
If you have multiple credit cards you can use Personal Capital to keep an eye on all of your accounts in one place.
9. Fix Your Credit
So we all have that little number that defines our creditworthiness.
It lets any lender know if we are a good candidate to pay our debt.
Not only do lenders and financial services rely on our credit scores, but many jobs look at our scores as well.
Having a good credit score can save you so much money by:
Lowering your interest rates.
Lowering your insurance rates.
Not having to pay deposits on utilities.
Getting a better paying job.
Now, most of us don't really care about our credit scores when we are young and some people make some really bad financial decisions.
All is not lost, there are ways to repair and increase your credit score.
Check out a free summary of your credit report to see what you need to fix to raise your score.
10. Trick Yourself Into Saving
So many people on a fixed income think that saving money is impossible.
If you are one of those people that just can't figure out how to add saving money to your budget, then you may need to try out a savings challenge.
My favorite money challenge that anyone can afford to do is the Reverse Penny Challenge. You can painlessly save over $600!
Another good savings challenge is the $5 challenge. Simply put every single $5 dollar bill you come across is in a jar.
Or you can try a no-spend month challenge!
If you are more of a debit person, then you can use an app like Acorns that will put your spare change from small purchases into your portfolio.
Get $5 when you sign up for Acorns today!
Hacks To Make Money
Money-making tips to quickly make free cash. Finding easy ideas to make extra income is the only way to work towards financial freedom. Make your money work for you!
11. Invest Your Extra Money
Basically, there are two ways to make money: work for it and earn off of investments.
Investing money, wisely, can help you grow your assets.
It will help you start planning for retirement early!
You work hard for your money, and investing it lets your money work for you.
Now if you don't know much about investments then you can start small, like with the Acorns app I mentioned above.
It invests your spare change from purchases into your investment portfolio.
It also gives you access to a lot of articles from financial advisors.
Or you can follow the Motley Fool newsletter that gives you some of the best investment tips on the web!
12. Earn Cash Back
Earning cash back on everyday purchases is a money-making hack that lets you earn money every time you spend it.
I know it sounds too good to be true, but they are legit and I have earned over $100 in cashback rewards by using them.
Cashback sites earn money from brands by referring customers (aka you) and then the cashback site gives you a share of that money.
They are so simple to use.
For online purchases, just click on the website, sign in, then click on the website you want to shop at.
For in-person shopping, click on the cashback app and browse the available rebates and choose the ones you will be purchasing. Then go to the store, make your purchase and simply upload your receipt.
My favorite cashback sites and apps:
Rakuten: Earn 40% back at thousands of stores. It's completely free and legit, I use them all the time! Don't forget they offer a welcome bonus and referral rewards.
CoinOut: A FREE cash back app that you may have seen on Shark Tank. It is so simple to use and you can earn money by simply scanning every receipt you have. I have earned over $80 by scanning my receipts. It takes seconds and is a completely legit app with over 10,000 positive reviews in the app store.
Ibotta: another free app to earn cashback on in-person and online purchases like groceries, apparel, and travel.
Free Money Making Life Hack: Use all these cashback reward sites at the same time to earn even more money back.
13. Get Free Money With Sign-Up Bonuses & Referrals
Most of those cash-back apps also offer awesome sign-up bonuses and referral rewards.
Sign-up bonuses are a free money hack you shouldn't ignore!
Free Cash Hack: Sign up for all of these free accounts to earn $45!
14. Have Multiple Streams of Income
So many people think that what "job" they have is their only source of income.
That is a HUGE mistake, my friend!
You should have several sources of income!
Think about it, many streams lead to a big river!
So maybe you have a day job that is your main gig, your "career" per se, well there is no reason for you to not have a side hustle.
Or even have 2-3 side hustles.
Did you know that the average millionaire has 7 streams of income?
No, that doesn't mean you need to go get a second shift job.
It means you need to find a way to make cash on the side.
Take a 2-3 minute survey every day to earn cash fast with Survey Junkie!
Get paid to play games and watch videos with SwagBucks.
Try out one of these 50 creative side hustles that most people don't even know about!
Do not limit yourself to thinking that your day job is the only way you have to pay your bills.
Check out these flexible side hustles that pay the most money.
Or if you want to work from home here is a list of 25 legit work from home jobs.
On the other hand, if you are interested in ways to make money WITHOUT A JOB then check out these really creative cash hacks.
Or if you are a mom here is a list of over 100 side hustles for moms!
15. Get Paid To Walk
This is a no-brainer side hustle! SweatCoin is a free app you download and it pays you for every step you take.
Now you will not get rich but you can earn a couple of $100 dollars a year just from walking from room to room in your house.
The more steps you take the more money you make!
Seriously, download the FREE app SweatCoin to make extra money every single day!
If you walk and refer people you can easily earn an extra $1000 a month!
16. Make Cash Losing Weight
If you need to shed some pounds, then why not get paid to do it.
Yes, I know it sounds too good to be true, but it is legit! HealthyWage actually pays people to lose weight.
Some people have made up to $10,000 with HealthyWage. They have been promoted by countless media outlets and have a 5-star rating in the AppStore.
If you want to find out more about how you could make money just by losing weight check out my HealthyWage review.
17. Search For Unclaimed Money
Could you be one of the lucky ones that have an unknown trust fund that your grandfather set up and never told you about?
Probably not, but that doesn't mean you don't have any unclaimed money out there.
Millions of people have unclaimed money in government accounts.
If you google it, you may find tons of websites that will charge you to look for unclaimed money. You don't need those sites, there are plenty of FREE ways to check for unclaimed money using official databases.
18. Declutter Your Home
Do yourself a favor and get rid of all the excess clutter and make some money in the process.
There are so many platforms that let you sell your unwanted things like Craigslist, eBay, Facebook marketplace, Amazon, and Decluttr.
If you don't love it or use it, SALE IT!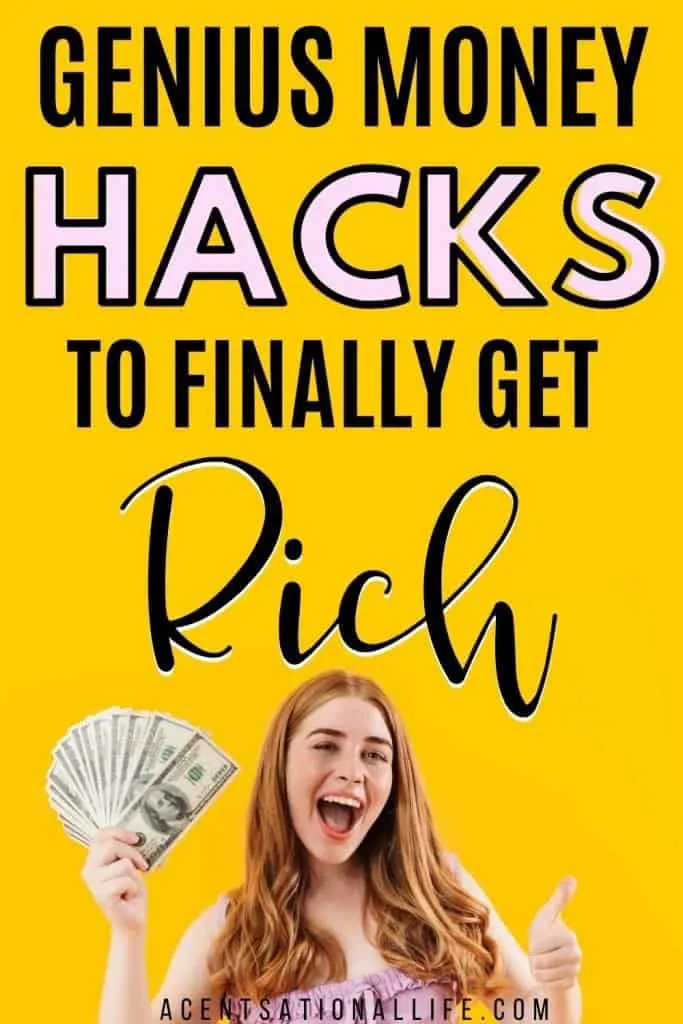 Money Tips and Tricks To Get Free Cash Now
So if you made it through this list of FREE money hacks, then you should have a good idea of how to put some FREE money back in your pocket and make your money work for you!
Using money moves will help you save time and energy while giving you a shortcut to financial independence.
If you want to stay up-to-date on new Money-Making Ideas then sign up here to never miss a chance to add some cash to fatten your wallet! Plus you can get the FREE Savings Tracker!
Do you have any MONEY Tricks that help you make extra cash? Let me know in the comments!
For More Money Tips And Tricks To Get FREE Cash:
20+ Ways To Make Money Without A Job
10 Free Money-Making Apps To Download Now