Fun Ways To Gift Money This Holiday Season To Give People EXACTLY What They Want…Money!
Here are 20 ways to creatively give money as a gift!
These fun ways to give money gifts will be hit with your friends and family!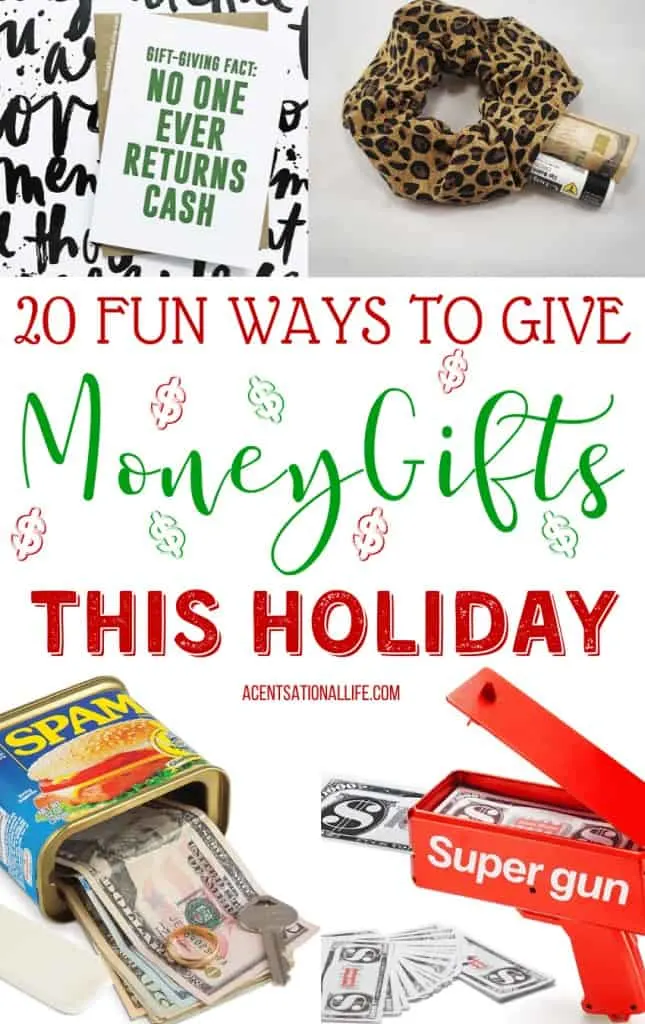 The holidays are upon us!
With Black Friday and Cyber Monday, a lot of Christmas shopping is getting ready to go down.
Holiday shopping isn't always that fun! Not only are the stores crowded, but it's hard to pick out the perfect gift for people.
Especially picky teenagers or that friend that already has it all!
Why not make this year easy, and give the perfect gift that NO ONE will return…MONEY!
Fun Ways To Give Money Gifts
That's right money gifts are awesome!
Who doesn't love money!
Whether it is dollar bill gift ideas or a visa gift card, giving money will always be a hit!
Now maybe you want to find some creative ways to gift cash or some crafty DIY money gift ideas.
Well, you are in luck because I have rounded up some really fun ideas that will make holiday gift-giving a breeze!
If you need help making some extra money to give then check out these creative ways to make cash that most people don't know exists!
Then go download these FREE high-paying money apps that let you make money right from your phone.
Don't forget these FUN & EASY WAYS TO EARN FREE GIFT CARDS FAST!
Now let's check out these creative ways to give cash, surprise money gift ideas, and fun ways to wrap money for Christmas!
Here are the best ways to hide money in a gift!
There are even some fun ways to give money gifts to children!
20 Fun Ways To Gift Cash
Give A Fun Money Gift This Holiday Because No One Ever Returns Cash!
Ways To Gift Money
If you need help making gift money, then check out this post Flexible Side Jobs That Pay The Most Money.
If you want to stay up-to-date on new Money-Making Ideas then sign up here to never miss a chance to add some cash to your pocket!
Remember the secret to making money includes saving the money you already have, so check out my SMART MONEY RESOURCES for easy money-saving tips.
Hope you enjoyed these creative ways to give money as a gift, be sure to check out these 50+ Creative Ways To Make Money!