The MOST Genuis Ways to Make Money Without A Job!
When you need cash fast sometimes you must think outside the box!
Whether you need money to pay the bills or are on your journey towards financial freedom, sometimes you need to think of creative ways to make money on the side.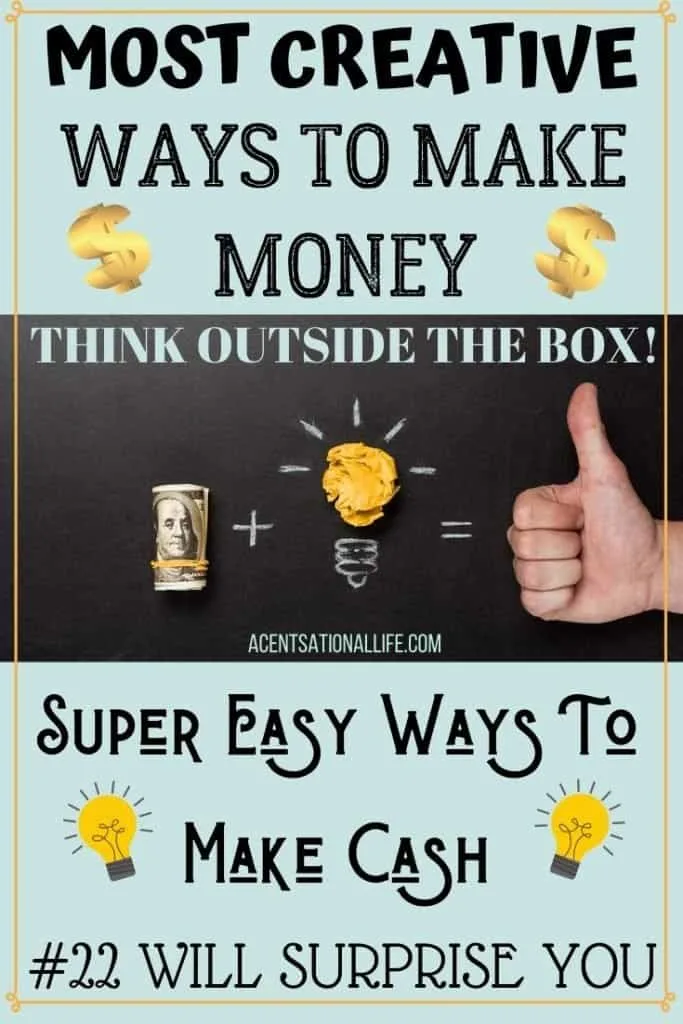 As you may already know, working a 9-5 just won't cut it anymore.
Maybe you have a job you hate and you have even been asking yourself "how can I make money without a job?"
How To Make Money Without A Job
You don't need an actual "job" to make money.
You just need to find multiple ways to make money.
So if you want money without a job then you need to find multiple streams of income, and preferably make money while you sleep.
It's exhausting when you struggle to pay the bills while living paycheck to paycheck.
When you have more than one source of income, it instantly lifts the financial burden that ways many people down.
Money may not buy happiness, but it buys freedom…the freedom to experience life fully!
20+ Genius & Creative Ways to Make Money
Try out these genius ideas to make money that you may not even know exist.
Trust me some of these are some pretty interesting ways to make cash without having a job!
1. Flip Domain Names
Flipping domain names is super easy and cheap! A domain name is the name of a website.
Domain names like wallstreet.com, computer.com, and candy.com all sold for millions of dollars!
More than likely, you will no longer find big brand names available as domain flipping has gotten more popular.
You will have a really good chance to make money if you think of a catchy website name that someone will really want in the future and they may pay you thousands for it!
Start your domain search here and look for names that you know are catchy. I would only invest in .com domains because those are the ones that people really want.
Get your .com for just $8.88 with Namecheap!
2. Lend Money And Earn Money
Ok, I know it sounds crazy to earn money by lending money, but banks do it all the time. Through a service like Lending Club, you lend money and earn interest just like creditors do.
It is a peer-to-peer lending program that lets you make money from funding other people's loans.
Check it out, you know how credit cards earn from us, why not get a slice of the pie too!
3. Be the Middle Man
You may have already heard of the brilliant business of dropshipping. If you haven't, then dropshipping is a business model that allows you to be the middle man.
Basically, you have an online store and sell products without EVER having anything in stock or shipping anything yourself.
Think of Amazon, which is the #1 dropshipping company out there.
Having a dropshipping business is so simple and cheap.
Simply buy a.STORE domain for your online shop for only $4.88/1st year, then run your store through Shopify.
If you want to sell t-shirts, mugs, or even jewelry, then use Printful. Sit back and let your shop do all the work.
When people purchase things, your Shopify store instantly notifies Printful and the item is shipped directly to the person.
Easy-Peasy! All you have to do is promote your shop and you WILL MAKE MONEY!
4. Make Dog Treats
People love their dogs!
Homemade or even gourmet dog treats are a huge seller right now!
Just watch this FREE webinar about this genius way to make money!
This side hustle is for people of all ages and backgrounds and can bring in $500 – $1,000+ per month. (It can also be scaled up to a full-time business if desired!)
Get it in on it early, because it is a legit creative way to make extra money!
5. Watch Videos
Most people like watching videos, which is why YouTube is so popular.
Well, Swagbucks will pay you to watch videos, play games, and do surveys.
It's a creative way to make money and takes very little time.
Instead of wasting your time scrolling on social media, make some extra cash watching a short video.
Click here for a $10 welcome bonus and it's free to sign up!
6. Have An Online Store
Having an online store is a genius way to make money in today's world!
The internet is convenient and most consumers do their shopping online.
It is very easy to have your own online store.
You can buy a.STORE domain for your online shop for as little as $4.88/1st year!
Then run your shop through Shopify.
Shopify makes it easy to have your own online store because it has different themes to make your website look very professional.
It is easy to use even if you have no tech experience. The payments are secure so the consumer always feels protected.
Plus, Shopify has a great support group that is always there to help your business thrive.
Work smarter not harder!
Click here to start your FREE 14-day trial!
Some beginners may choose to run a store through ETSY, but then they have no control.
There are so many fees, they determine who they promote, you can't always sell what you want and a lot of sellers are very unsatisfied.
That is why I recommend having your OWN store through Shopify. You are the BOSS!
If you don't know what to sell, check out all the awesome bulk merchandise at Alibaba. Most of the items you see for sale on Etsy.com are purchased in bulk from Alibaba.
There you will find an incredible selection of EVERYTHING.
Think about the trends and what is in high demand. Anything related to kids or weddings will ALWAYS be high-sellers.
7. Sell FREE Stuff
Have you ever scanned Craigslist to see what people are giving away for FREE?
Well, you would be pretty surprised by how many people give away NICE stuff just because they want rid of it.
You can find furniture, antiques, clothes, household items, and even cars on Craiglist's free stuff.
You can actually make really good money selling junk scrap metal.
If it looks like it could sell, go get it, then list it on Facebook Marketplace.
Plenty of people make a full-time income being a Flea-Market Flipper!
Such an easy way to make free money!
8. Sell Your Clutter
Most of us have clutter lingering around our humble abodes just collecting dust.
Why not get it out of your house and make quick money in the process!
Decluttr pays the most for electronics, games, CDs, DVDs, books, and more.
It is a totally free and easy way to sell those old things just cluttering up your home.
Get an instant quote, ship your items for FREE and Make Money!
9. Lower Your Bills
A little creative way to make extra money is by lowering your bills to put money back in your pocket.
Trim Bill Negotiator
does just that!
Think about the thousands of dollars you lose every year for subscriptions you don't use or high fees that are unnecessary.
It's FREE to sign up, and it's like having your own personal accountant keep an eye on your money.
10. Check For Unclaimed Money
That's right, there could be money or property just waiting for your signature at your local treasury office.
Many people have been surprised just how much money they have found!
It is easy to do a quick search of your name or even a close relative's name.
Just go to Unclaimed.org to see if you are one of the lucky people with FREE MONEY waiting for you!
11. Lose Weight
Finally, losing weight isn't as hard because you can get paid to do it!
Bet on your weight loss with HealthyWager.
Calculate your prize based on your weight loss goal, make your bet, lose the weight, and win money. Get started today!
It is so easy and you know your calculated prize amount before you even start!
Check out this post, explaining how you can make easy money just by shedding some unwanted pounds!
12. Check Your Coins
Most people think that pennies are worthless, but the truth is there are some pennies that are worth thousands of dollars!
Before you step over that dirty coin in the street, it might serve you well to check it out first.
For instance, the 1969 penny that has double writing on it is worth $35,000 and the 1943 bronze penny is worth around $300,000.
These aren't the only valuable coins worth looking into. There are even coins from as recent as 2004 that are worth a couple of hundred dollars.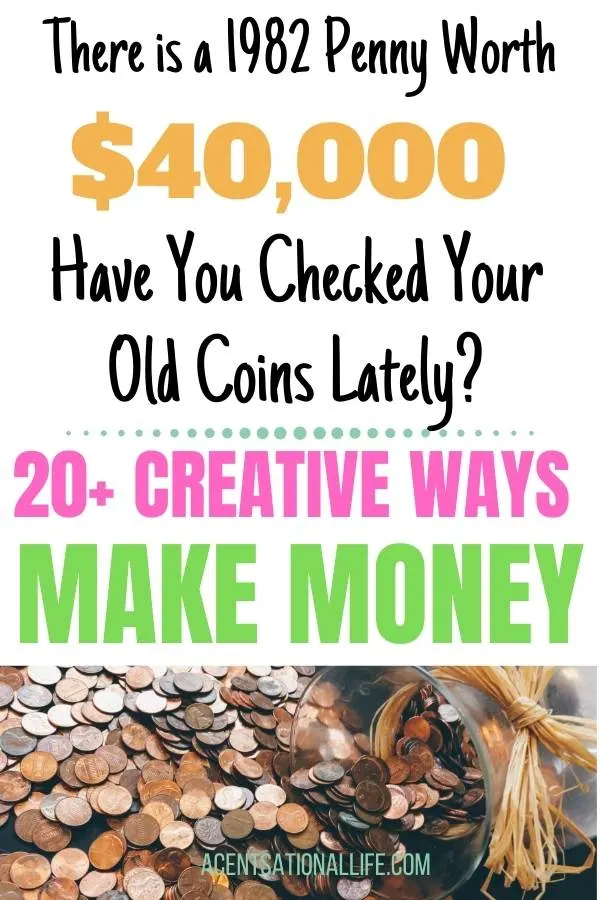 13. Check Your China Cabinet
So back in the day, our grandmothers collected glassware.
They weren't worth much back then, in fact, some were given as cheap prizes at carnivals.
Times have changed, meaning those old antique bowls and vases that were displayed in your grandmother's china cabinet are worth a lot of money.
If your grandmother didn't leave you any glassware, no worries, you can still have luck at estate sales, flea markets, or even at the Goodwill finding these vintage glassware pieces that are worth thousands of dollars!
So if you want to know the best way to find these flea market finds then check out the Flea Market Flipper!
14. Sell Books
Amazon is one of the biggest selling platforms.
I am sure you use them all the time.
Well a little creative idea to make money that many people don't know about, is selling books for profit on Amazon.
The way to do it is to find the books at discounted prices and resell them on Amazon to make triple your money.
If you are interested in this grab this FREE eBook that explains exactly how to make a profit selling books on Amazon.
15. Earn Cash Back
When purchasing everyday items like groceries why not get cashback rewards as well.
Ibotta is a FREE app that lets you get cashback on everyday purchases like apparel, travel, and groceries.
You were going to buy it anyway, so why not put money back in your wallet.
16. Be A Friend
There is a new website that pays people to be friends.
For real, Rent-A-Friend.com is a place where people can "rent" friendships.
Don't worry it's a strictly platonic website that is just for companionship.
People are searching for a "friend" to go to weddings, work events, or just to talk on the phone. Most "friends" charge anywhere from $20-$50 dollars an hour for their friendship.
17. Legally Scalp Tickets
Remember those guys in the parking lots at every concert trying to sell you tickets illegally?
Well, now there is an easier and more legal way to sell concert tickets. StubHub has made it so easy to sell event tickets.
I wasn't aware just how lucrative selling tickets could be until a friend of mine bought tickets to a sold-out concert and then found out she was unable to attend.
She then listed her tickets on StubHub.
Those tickets were bought the same day she listed them for 5 times the amount she paid!
The trick is to buy tickets to high-demand events right when they go on sale, and then list them closer to the date of the event.
18. Listen To Music
Do you like listening to music and giving reviews?
Well, a company called Slice Of The Pie will pay you money to review songs and clothing to help record labels know what's good or not.
You get paid for EVERY review you give. It's FREE to sign up!
What a creative way to make money by reviewing the music of talented artists!
19. Get Paid To Walk
Most of us are walking around every day with our phones. Why not get paid for it?
SweatCoin is a cool little app that pays you for walking. Simply download the app to your phone and get moving.
Many people track their steps on their phones every day anyway.
SweatCoin is a FREE app and there is no reason not to have this app on your phone making money with every step you take.
20. Proofread
Does it drive you nuts when people make grammatical errors?
Well, then proofreading might just be for you! As a proofreader, you can work from home and set your own schedule.
It's a very lucrative market with pay ranging from $20/hr to $50/hr.
Click here for a FREE 45 min. Proofreading Workshop that can get you on your way to making a great side income.
21. Sell Your Skills
Do you have a particular skill you are good at?
Many people are making money on Fiverr.com
for online jobs like making logos, doing voice-overs, writing resumes, and more.
They are also making a killing for some far-out-there services like removing curses. Hey, I guess there is pretty much demand for EVERYTHING.
If you would like a more local gig, then list your services on Thumbtack.com
. There you can list services such as painting, photography, landscaping, pressure washing, or even organizing someone's closet.
22. Sell Your Stool
Yes, you read that right, you can make $40 for each stool donation you give.
Openbiome is paying people for their stool to help with the research of treating antibiotic-resistant bacteria.
So not only will you make a decent amount of money, but you are helping to save lives!
It gives a new meaning to the phrase "flushing your money down the toilet" 🙂
23. Teach Classes With Outschool
Make easy money without a job by teaching classes on Outschool.
It is an online platform that lets people teach classes about pretty much anything.
One of the top-performing classes is how to make a Youtube channel.
Start making online classes now and make $50/hr with Outschool.
Now Go Read The Ultimate List Of Creative Side Hustles To Make $100 A Day!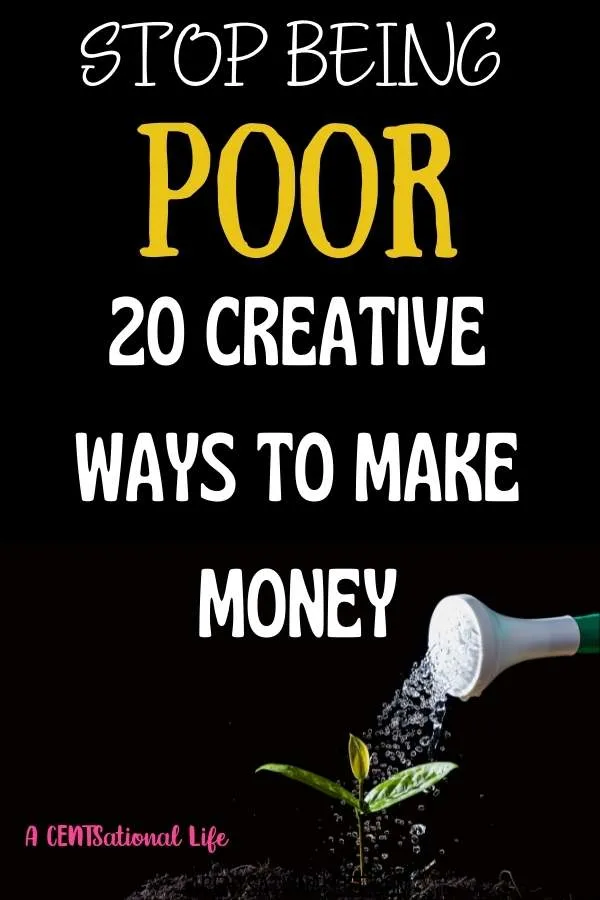 Creative & Fun Ways To Make Money Without A Job
There are so many ideas out there to extra make cash! There is NO reason for you to be broke!
It doesn't matter if you have a full-time gig or if you are unemployed, finding some fun & creative ways to make money on the side is the answer!
When something is fun, it doesn't feel like work and we are more inclined to do more of it.
So…if it is fun AND it pays the bills, then it is a win-win situation!
Creative Ideas To Make Money
There is no excuse not to have some creative side hustles bringing in some extra dollars every day!
Luckily for you, here you will find some creative ways to make money online & at home that many people don't even know about!
That's right, every day there are more new ways to make cash.
You just have to be willing to find them.
Don't just do one of them, if you can, do them ALL!
I hope you enjoyed these pretty creative ideas to make extra cash!
If you didn't find just the right income stream then check out these related posts:
25 Real Ways To Make Money At Home That Are LEGIT
Flexible Side Jobs That Pay The Most Money
If you want to stay up-to-date on new Money-Making Ideas then sign up here to never miss a chance to add some cash to your pocket!
If you want to be financially free, sometimes you need to think outside the box. There are so many ways to make extra money, there are no excuses!
Remember the secret to making money includes saving the money you already have, so check out my SMART MONEY RESOURCES for more money tips.
Bonus: More Ways To Make Money
Free Money Making Apps You Need To Download Now
How Moms Can Make Money From Home: Legit Ways To Pay The Bills
Fun Ways To Earn FREE Gift Cards!