Are you a work-from-home job seeker looking for a legit side hustle to make money at home?
Well, I have done tedious research to find real ways to make money from home.
Making money from home in your pajamas may sound like a dream, but many people are doing it!
In fact, if you want to have more freedom and an easier way to pay your bills, then you need to find an easy income from home.
Just a few years ago the term "side hustles to work from home" sounded like a scam.
In fact, if you searched "Make Money From Home" then you found scammy websites asking for money upfront or tedious jobs like making beaded bracelets for cents on the dollar.
How To Make Legit Money From Home
Fast forward to 2020 and thanks to technology you will find that it is easier to find ideas to make money at home than it is to get a good-paying "real" job!
Now, most of these opportunities will involve making money online because that is the beauty of the technology age.
Lucky for you though I have found a job for pretty much anyone!
This is what making money from home (for FREE) can do for you:
It can help you pay off excruciating debt
It will make it easier to start focusing on living your best life
You can finally break the paycheck-to-paycheck cycle
The best part is it can help you along your path toward financial freedom
It doesn't matter if your interests involve reading, writing, or fashion (you thought I was going to say arithmetic didn't you) here are 25 legit ways to make money from home for free.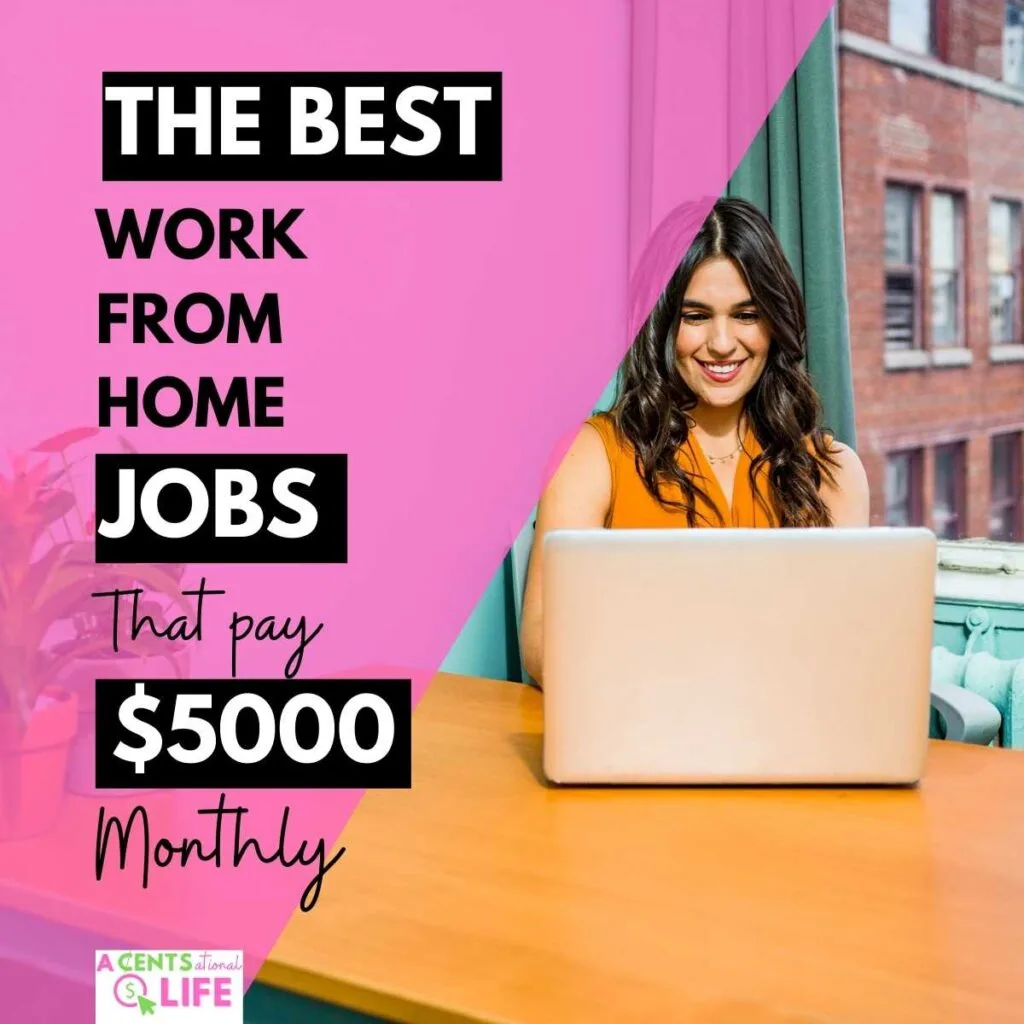 Real Ways To Make Money From Home For Free
Real ways to make money from home for every skill level. Work from home on your couch and make a full-time income.
1. Be A Proofreader
Does it drive you crazy when you see people misuse "they're, their & there" then proofreading may just be your calling?
Working from home as a proofreader lets you make your own schedule and still get paid an average of $25/hour.
Some proofreaders make around $100/hr!
Caitlyn Pyle has been a freelance proofreader for years.
She started out proofreading court documents but quickly expanded to books and even websites.
If you have an eye that easily spots mistakes, then proofreading may be the job for you.
With everything online now, proofreaders are in high demand!
Just look at Upwork at the proofreaders offering their services for around $120/hr.
Check out this FREE course to see if proofreading from home is right for you.
Even if you don't think that you are that great at proofreading, apps like Grammarly AKA The World's Best Automated Proofreader can do the job for you!
2. Be A House Sitter
So technically you would not be working from your home, but you would be working from someone's home.
These days with travel being so accessible many people need house sitters.
House sitting is an easy job! You may be needed to feed pets, water plants, or just keep the lights on.
Check out TrustedHousesitters for local listings. You can also check out listings in faraway vacation spots and have a place to stay for free.
Either way, you would be working from home, just not your own 🙂
3. Have An Etsy Shop
Etsy.com is becoming one of the most popular places to have your own custom creative shop.
From wedding invitations to custom baby attire, Etsy shops are thriving!
Big money-making items right now involve using a Cricut. It is so easy to use and can make hundreds of products!
Seriously, look at all the custom baby onesies on Etsy. They go for around $20 a piece.
You can buy a 5 pack of blank onesies for around $10.
Just use your Cricut to make a custom design and you can have a huge markup.
Not only can you make bank with baby clothes but there is a huge demand for personalized t-shirts as well.
Guess what, you can use a Cricut for that too!
4. Have Your OWN Shop
So Etsy is great because it is already well known.
However, you do have to pay fees for everything you sell. Also, you must abide by all their rules.
If you would like to have your VERY OWN shop where you are the BOSS and you can sell whatever you want, then Shopify is what you need!
Having an online shop is a genius side hustle! Everyone does most of their shopping online.
Shopify offers you the platform to have your retail website.
You don't even have to hire a website designer!
Shopify has so many themes to choose from, that even the least tech-savvy person could easily build a beautiful eCommerce site in no time.
You can even do it all from your phone!
Not only that, but they also have 24/7 support and a whole community that will help you get started and be successful.
Click here for a FREE trial!
5. Be A Pinterest Virtual Assistant
Do you love Pinterest? I do! I spend A LOT of time pinning, as do most people.
So what if you could get paid to play on Pinterest?
There are so many bloggers and businesses that depend on Pinterest but just don't have the time to run their Pinterest accounts.
Before my blogging career took off, I worked at home as a Pinterest VA.
I charged $50/hr per client!
Now granted, I only worked 2 hrs a week per client, but I did have anywhere to 4-7 clients at a time.
Not too shabby for part-time work!
If you are interested in learning more about being a Pinterest Virtual Assistant, then check out this FREE workshop on how to get started!
6. Be A Baker
More and more people are going to private at-home bakers for their goodies!
In fact, I have noticed that most of the parties I have attended recently have had cakes made my private bakers.
I can understand why because they are delicious!
They don't have that boxed cake flavor that most store bakeries tend to have.
If you love baking, then having your OWN at-home bakery could be the perfect way for you to make money!
There are plenty of free Online Cake Decorating Classes that could help you hone your skill.
7. Make Money Selling Crafts
There is a lot of money to be made with handmade crafts.
In fact, on Etsy.com plenty of people are making over 6 figures a year!
My best friend, makes a full-time income making craft projects with her Cricut and selling them in her Etsy shop.
Consumers are getting tired of the average junk decor sold in big chain stores.
They would rather have unique, handmade crafts.
You can find plenty of money-making crafting ideas with free classes from CreativeBug.
This easy-to-make Macrame Plant Hanger is a huge seller right now!
So be sure to watch some crafting tutorials and set up your own Etsy shop.
It is free to open up your very own Etsy shop!
8. Be a Make-Up Artist
Beauty gurus are the trend right now!
People like James Charles became famous just by posting make-up tutorials on YouTube.
Now he has his own make-up line.
I am sure you have heard all about how Kylie Jenner is a millionaire all because of her make-up!
With high-definition cameras, people like to have their makeup look professional!
So why not join the trend and become a make-up artist.
You can experiment with different looks and work with awesome clients.
You can find real jobs for make-artists on FlexJobs.
9. Be A Drop-Shipper
Dropshipping is a sales method where a store (AKA you) purchases items from a third-party vendor and has it shipped directly to the customer.
As a result, the seller (you again), don't have to keep anything in stock or worry about shipping. That means no headaches!
Now to start out being a drop-shipper, you must first choose your platform. That means where you will sell your product from.
You can always sell from platforms like Amazon or eBay. Those are both great options that many people already search to buy certain products.
However, they both have fees.
Those options are great for beginners, but if you want to really be in charge then you must have your own site.
This may sound difficult but it is the easiest way to make money from home!
Buy a .STORE domain for your online shop for only $4.88/1st year, then run your store through Shopify.
Now, you need to decide what you will sell.
10. Take Surveys
You won't get rich taking surveys, however, you need to remember that every little bit counts.
The more surveys you take, the more money you will make.
There are a lot of survey companies out there. I have tried many of them and the two that I like the best are Swagbucks and Survey Junkie.
They are both completely free apps that are a perfect side hustle for your spare time!
They are the epitome of real ways to make money from home for FREE!
Swagbucks lets you earn points that you can redeem for gift cards to your favorite stores or PayPal cash. It is so easy to earn! You also get $10 just for signing up and it completely free!
Survey Junkie is pretty fun as well. It is simple and straight to the point.
The surveys let you know how much time you will invest and what it is worth beforehand.
11. Be a KonMari Consultant
Last year, Marie Kondo made headlines with her KonMari Method of organizing. Well, now people all over the world are being trained to be KonMari Consultants.
If you like organizing, then this could be the job for you!
Check out this post on how to make money with Marie Kondo to find out how you can be trained to "spark joy" and make a decent income.
12. Share Your Skills
Do you have a particular skill?
Even if you don't think you do, trust me you do. We all have something we are good at, but sometimes we just have to figure it out.
If you know that you are skilled in something, then you could teach your skills to others and get paid on SkillShare.
13. Be A Photographer
Careers in photography have skyrocketed in the past decade. You don't even have to have a portrait studio.
Most photographers set up FREE Facebook business pages and then book their clients at different locations.
For example, my family recently had family photos made because I saw an ad on Facebook for a local photographer's mini-sessions.
We met her at a local park and took some pictures with fall trees in the background.
It only took 15 minutes!
She charged $50 and emailed me 10 digital prints within a week. She was fully booked that day so that means she was making around $200/hr!
Of course, me being me, I asked her how often she holds these mini-sessions and she said usually just 1-2 weekends a month. And yes, she told me that she makes a full-time income!
Check out this FREE online class on how to start a photography business.
14. Sell Your Photos
With social media booming and having 24/7 access to a camera (your cell phone), it is easier than ever to make money with photography.
Cell phones have come a long way and can take some pretty amazing shots.
Even if the picture isn't the best quality, there are so many apps that can make a photo look phenomenal.
You can then sell your pics to sites like SmugMug.
With the millions of websites out there, stock photos are in huge demand!
Start selling your photos online. Click here!
15. Make Videos
So you may have heard about a little boy named Ryan who makes $22 million dollars a year from his YouTube videos.
If you have kids, then you have probably even watched some of his videos.
Well, he may be the highest-paid YouTuber but there are millions of other people making money from their videos too!
There is pretty much a YouTube channel for everything!
Also, there are multiple ways you can monetize your channel.
For instance, YouTubers get paid by those annoying ads at the beginning of their videos.
They also make money from brands reaching out to them for reviews or just a shout-out.
So grab your phone, make some videos and upload them to YouTube!
It's as easy as that!
If you need good editing software to make videos check out Vimeo.
16. Have A Blog
Now if you have searched the internet before for how to make money from home without any investment you may have seen blogging.
That is misleading because you do have to make a small investment to start a blog.
That being said, some people make huge investments in blogging and never see any return.
When I first started I only spent $7 to start and I knew nothing about blogging
I worked EVERY SINGLE DAY!
Within a year, I started making a full-time income off my blogging side hustle. That's pretty good for a $7 investment to start.
Read my post on how to start A MONEY MAKING BLOG from the start!
I know someone who started a blog at the same time I did.
They bought every blogging course they saw.
Then they paid someone to design their blog and spent $200 on their fancy logo.
From there, they wrote a few posts and shared them with social media, and left it at that.
By their first year, they had spent over $5000 and had made NO money in return!
They had a beautiful blog and tons of blogging knowledge, but they didn't have the mindset.
It's all in your mindset!
If you want to blog for money then you must read this!
You must be smart about your blogging journey.
Don't get caught up in themes, logos, and brand colors.
Don't blog for a hobby!
You must BLOG for an AUDIENCE.
That's how you make money blogging!
If you want to make money from blogging, then you must treat it as a business.
The awesome thing is you can start a blog with a very small investment.
Anyone can start a blog!
Hosts like Siteground make it super easy to have a blog for only $3.95/month!
So if you think you have the mindset, then click here to find out how to get started!
17. Have A Facebook Group
Are you on Facebook?
The awesome thing about having your own Facebook group is that it is completely FREE!
The possibilities are endless!
There you can build relationships with people and make money from promoting affiliate links or even your own business.
If you want to know some ways to run a successful Facebook group check out these 10 tips on how to get started.
18. Be A Social Media Guru
Do you love social media?
Do you find yourself spending hours a day scrolling through Instagram & Twitter?
Well, there are so many companies that are looking to hire social media managers.
That even includes many famous celebrities!
All you have to do is post on social media and respond to fans or questions to keep their social media profile active.
It's not hard, and it is especially easy if you already love the social media platform!
Make a listing on Fiverr.com
and promote your social media skills!
19. Evaluate the Internet & Social Media
Speaking of social media, I am sure you see a lot of sponsored posts. Well, the people who share those sponsored posts get paid.
What if you got paid to give your opinion of that same sponsored post?
Yes, there is a company that will pay you to evaluate ads and sponsored posts on the internet.
Let's face it, ads are everywhere, so this job will not run out of leads anytime soon.
Check out Appen for a list of jobs that let you give your opinion of internet ads.
Also, be sure to check out this huge list of work-at-home jobs!
20. Make Money From Your Phone
So chances are you have a smartphone or tablet, pretty much everyone does these days.
Well, there are actually apps that will pay you money.
In fact, most of these apps are completely FREE and pay pretty well.
Check out this list of apps that are legit and let you earn extra cash.
21. Make Money By Losing Weight
There is an awesome program that pays people to get healthy and lose weight!
In fact, most people earn at least $1000 and some have earned as much as $10,000!
Read my review of HealthyWage.
22. Review Books
Do you love reading?
I love being in comfy pajamas, sipping coffee, and reading a good book.
I have even written some reviews on amazon of some of my favorite titles.
Have you ever written a book review on amazon?
Well, there are companies that will actually PAY you to write book reviews.
Of course, there are a lot of scams out there so I did my research. These 3 companies are all legit and will actually pay real money for book reviews.
23. Be A Mock Juror
Do you love watching court cases on TV but hate jury duty?
I think we all can agree that jury duty isn't fun.
Trust me, I know! I have only had it once, but it was so boring!
I never even made it to the courtroom. Instead, I spent days in a waiting room missing work and my family.
Well, what if you could actually pick and choose cases to be on a mock jury?
That's right and not only can you be part of a jury of your choice but you can do it and get paid from the comforts of your home!
This is how it works: Lawyers need to win their case, so they pay people to be on an online mock jury to see if their tactics may persuade a REAL jury.
If this seems interesting and you would like to participate in a mock criminal case while in your pajamas watching Netflix, then check out Online Verdict.
24. Be A Virtual Assistant
Many companies and even just regular people are hiring virtual assistants!
Being a VA is a great work-from job!
In fact, most websites are always looking to hire virtual assistants to rate search results for keywords, translate paragraphs, review websites, correct spelling, run social media accounts and so much more.
The average pay is around 25/hr.
Check out this FREE virtual assistant class!
25. Sell Cheap Finds On Amazon
Speaking of Amazon, do you know that most of the products you buy from Amazon are being sold from regular people?
It's called Amazon FBA (fulfillment by Amazon). So if you love going out and finding great deals then this might be the perfect gig for you!
First, grab your FREE eBook on how to sell on Amazon.
Then shop your local retail stores for deeply discounted items, list them, and then send them straight to an Amazon fulfillment center.
From there, your items will be shipped to the sellers and you will make money!
Take the free class from Flea Market Flipper to learn how to sell things online for the most profit!
Make Money At Home 2022
Well, there you have a lot of real ways to make money from home that you can choose from.
If you didn't find an idea that you feel will work for you, then check out these 50 creative ways to make $100.
Working from home doesn't have to be a dream, in fact, a recent poll shows that 43% of Americans have worked at home at some point in their life.
This is a dream that you can actually do! I do it and I know many people who do it too!
It doesn't matter if you are a SAHM, a college student, or you just don't like commuting to your job, there are plenty of options out there!
Let me know in the comments if any of these jobs are right for you 🙂
If you want to stay up-to-date on new Money-Making Ideas then sign up here to never miss a chance to make more money!
Bonus: More Side Hustles From Home
15 Best Work From Home Jobs For Moms
100 Real Ways To Make Money From Home For Moms
Side Hustles That Pay The Most Money
5 Top Habits of Highly Successful People
Best FREE Money-Making Apps That Pay Well
The Most Creative Ways To Make Money That Most People Don't Know Exist!