Top Money Making Apps for iPhone and Android users!
Free apps that pay real money to make a passive income from your phone!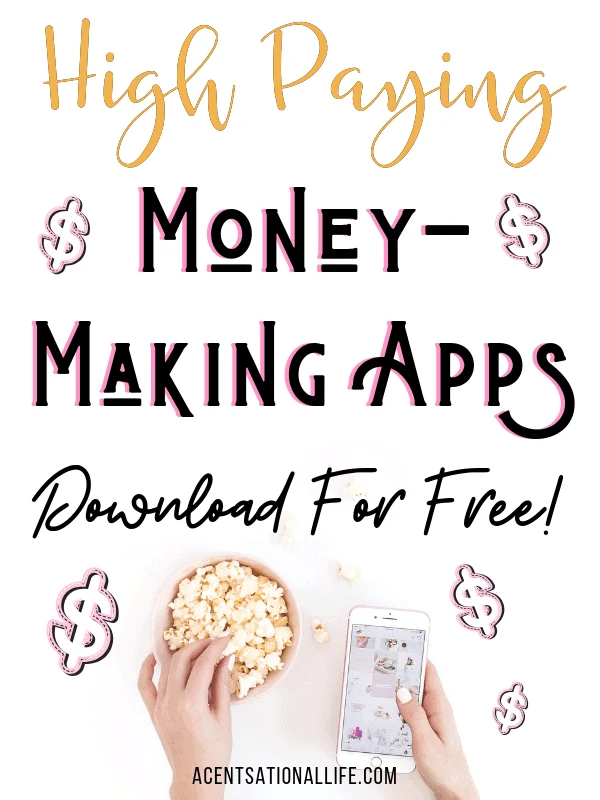 Let's face it, we spend a lot of time on our phones. We feel almost naked without it.
Wherever you go, you see countless people staring at their smartphones because it has become a way of life.
The truth is that we spend most of our waking hours staring at screens.
Think back to the last time you took a look at your phone.
Odds are, you are looking at it right now reading this post 🙂
Studies say that people check their phones on average once every 12 minutes!
Is it healthy… probably not, but let's make some good use of all that time by downloading some money-making apps to earn cash that will help pay the bills.
How To Make Money From Your Phone
Apps have come a long way!
There is pretty much an app for everything!
There is a lot of money-earning apps for android and iPhone users that help you earn extra cash every day!
How To Make Money From Your Phone With Apps That Pay:
Survey site apps that pay you real money for your opinion
Financial apps to save money
Cashback apps
Apps to sell stuff
Apps that pay you real money for staying active
Ok, now it's time to make some money from your phone!
Best Money Making Apps In 2022
Legit money-making apps that pay you real money just by playing on your phone!
1. SWAGBUCKS
Swagbucks is one of my all-time favorite money making apps!
Easily earn money or gift cards by doing simple things like watching videos, taking surveys or even playing games.
Just go through all the options and pick what you prefer and even make extra SB's for referring your friends.
You can easily exchange your SB's for gift cards and PayPal cash. I personally use Swagbucks and earn visa gift cards weekly.
Exchanging your SB coins for gift cards is a good strategy because sometimes the gift cards are offered at a discount. For instance, you can get a $50 gift card for only $42.
Swagbucks is a legit money-making app that even has an A+ rating with BBB.
Click here for a $10 welcome bonus just for signing up for FREE!

You Can Get Free Gift Cards For Shopping, Searching and Discovering What's Online at Swagbucks.com
2. ACORNS
Join over 5 million people and start investing your spare change with the Acorns app.
This little savings tool rounds up your purchases on a linked credit or debit card by taking the extra change from each purchase and investing it into your own personal portfolio.
Acorns is an awesome money-making app for people who struggle to save.
The Acorns app helps you build your nest egg without even thinking about it.
This app is an excellent start for someone with no investment experience. It is so simple, and you can see your pennies being invested in your portfolio.
For example, I bought a coffee that totaled $3.79, my Acorns app rounded up to $4.00 and invested that $0.21 into my portfolio.
You can choose which transactions you want to be included in the "round up" or even just set a monthly amount. This is the easiest way to SAVE MONEY without having to think about it.
Here is a $5 Bonus – Sign-Up For Acorns Today!
3. Dabbl
An easy way to make extra money is by signing up for Dabble to earn free gift cards for your opinions on different brands.
Choose which brands that you want to connect with such as Oreo and Neutrogena.
Then answer some questions giving your opinion totally anonymously.
Then you can earn gift cards to some of your favorite places like Amazon, Target, Lowes, and more.
It's entertaining and some reviewers even compared it to popping bubbles in bubble wrap.
4. RAKUTEN (formerly EBATES)
You should be using Rakuten EVERY-TIME you shop! This awesome app will let you earn up to 40% CASH BACK at THOUSANDS of stores.
Another added bonus is it lets you combine cash-back rewards with promo codes and coupons that are already listed on Rakuten saving you tons of money!
There are no surveys, no gimmicks, just earning easy money. Get a $10 bonus if you sign up for Rakuten today, and get cashback in your wallet!
5. IBOTTA
Ibotta is a FREE money app that lets you get cashback on everyday purchases like apparel, travel, and groceries.
If you are going to buy it anyway, why not put money back in your wallet.
Cash accumulates in your Ibotta account and it lets you exchange your balance for PayPal or gift cards. Just like Swagbucks, Ibotta offers gift cards at a discount.
Shop with Ibotta in-store, and online get up to $20 in Welcome Bonuses!
6. SWEATCOIN
Most of us are walking around every day with our phones. Why not get paid for it? SweatCoin is an awesome little money-earning app that pays you to walk!
Simply download the app to your phone and get moving. Many people track their steps on their phones every day anyway.
SweatCoin is a FREE app and there is no reason not to have this app on your phone making money with every step you take.
You can exchange your SweatCoins for cool tech products like iPhones and wireless earbuds, or just cash it out through Paypal.
7. TRIM
Trim Bill Negotiator
is a money-making app that helps you make extra money by lowering your bills to put money back in your pocket.
Think about the thousands of dollars you lose every year for subscriptions you don't use or high fees that are unnecessary.
This little app is awesome because it can cancel unwanted subscriptions, negotiate your cell phone and it even has a debt payoff calculator.
It can also get you credits on your cable/internet bills if there is an outage!
Saving money should be easy – automate it with Trim
and Sign-up FREE today!
8. HEALTHYWAGE
How awesome would it be to get PAID to lose weight? HealthyWage is a money-making app that does just that!
This app has almost a 5-star rating with over 8,000 reviews just in the app store.
It is all over social media and news outlets including CNN, The Today Show, Good Morning America, and countless other media outlets.
This app is legit and you can make up to $10,000! Read my HealthyWage review here.
It is so awesome to finally have the BEST incentive to lose weight…MONEY! Make a HealthyWager today and see how much you can win when you bet on yourself.
9. DECLUTTR
Do you have a lot of clutter just setting around your home? Why not get it out of your house and make quick cash in the process!
Decluttr pays the most for electronics, games, CDs, DVDs, books, and more.
It is a totally free and easy way to sell that old stuff just cluttering up your home. Get an instant quote, ship your items for FREE and Make Money!
10. Survey Junkie
Survey Junkie is a Free app that pays you to take surveys. It is just as simple as that.
There is no fluff, and it is very transparent. You can pick and choose what survey you want to take and know how much it pays before you start!
You can make $10 in a matter of minutes just doing a simple survey. This is another no brainer app that you can make easy money with.
11. CoinOut
CoinOut is an app that you may have seen on Shark Tank. It is easy to use and lets you make easy money just by scanning receipts.
Scanning receipts is such a simple way to earn cash back on everyday purchases. Not only can you make money in a matter of seconds, but it is also 100% free use.
This top paying app has a built-in scanner that does all the work for you.
You will earn money from EVERY single receipt you scan.
It is the easiest way to make money with your phone!
It is a legit app with over 10,000 positive reviews in the google apps store. Go download it NOW!
12. Tally
Tally is like having a financial advisor in your back pocket.
Now it won't help you make money but it will help you save money, which is pretty much the same thing!
This little financial app will help you get that debt-free feeling faster than ever.
Tally can help you pay off debt like high-interest credit cards and student loans. In the long run, it can save you so much money on interest payments.
Sign up for Tally today!
Make Money With Your Phone With Apps That Pay Real Cash
Our cell phones are already very expensive, why not use them to make little cash!
Download some of these money-making apps today to earn quick money for doing little to nothing!
If you want to stay up-to-date on new Money-Making Ideas then sign up here to never miss a chance to add some cash to your pocket!
How do you make money with your phone?
LET ME KNOW IN THE COMMENTS!
More Ways To Make Real Money
50+ Frugal Life Hacks To Save Money While Enjoying Life
21 CREATIVE WAYS TO EASILY MAKE MONEY