Looking for some fun lists of lists to make?
Here are 100 types of lists to make when bored!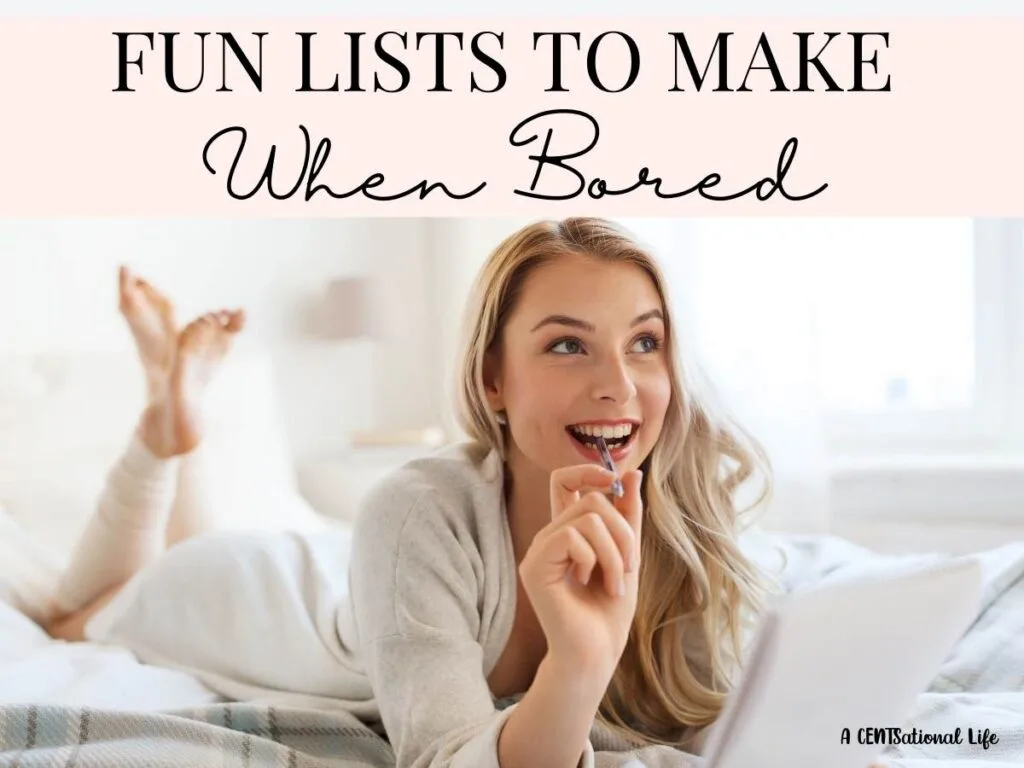 Lists are very common on the internet.
They are everywhere.
The first reason why people like to make lists is that it is easy to read and understand.
The second reason is that they are usually more organized than paragraphs of text.
The third reason is that they can be easily added to later on.
Finally, the fourth reason is that lists are fun things to write when bored.
Benefits Of Making Lists
There are many benefits of making lists.
Making lists is a great way to reduce anxiety and create a sense of accomplishment.
List-making can help people organize and prioritize their tasks and to-dos.
Tasks that seem daunting or impossible can be broken down into smaller manageable tasks that are more achievable, this makes them feel less overwhelming.
Lists can help people plan for the future by creating goals and making time to do things they love.
Lists encourage people to think about things in an organized way.
Making a list can make sure you don't miss out on anything and help you save time when it comes to completing tasks.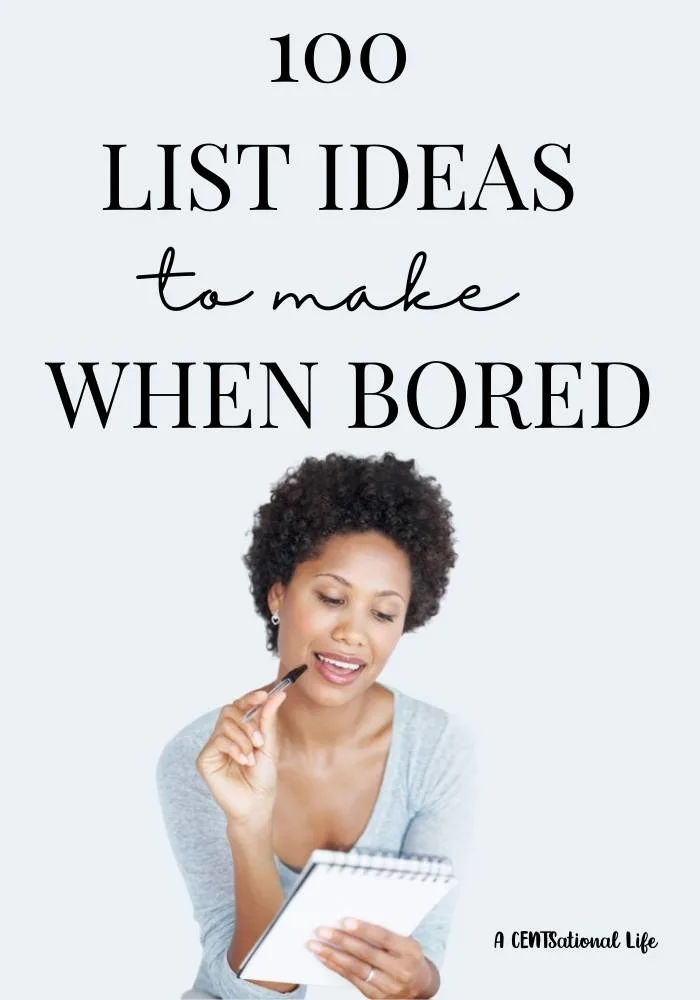 What Are Some Good List Ideas?
There are all kinds of types of lists to make from Top 10 lists to organizational lists to make life easier!
We are going to go over some great lists to make for fun!
You know the type of lists to make when bored.
So I hope you enjoy this fun list of lists to make!

Fun Lists of Lists To Write When Bored
Here are 100 lists of lists of things to write.
Top 10 Lists
Top 10 Love Songs
Top 10 Break Up Songs
Top 10 80's Songs
Top 10 Country Songs
Top 10 90's Songs
Top 10 Games Shows
Top 10 Reality TV Shows
Top 10 Top 10 Rom-Coms
Top 10 Movies Of All Time
Top 10 Most Visited Vacation Spots
Top 5 Lists Ideas
Top 5 Happiest Countries
Top 5 Scariest Roller Coasters
Top 5 Beaches Of The World
Top 5 Best Pizza Parlors In New York City
Top 5 Songs Of Last Year
Top 5 Most Dangerous Animals
Top 5 Near Extinct Animals
Top 5 Highest Elevations
Top 5 Most Expensive Automobiles
Top 5 Most Expensive Homes Ever Sold
Things People Say List
Things My Parents Say
Things My Kids Say
Things My Friends Say
Things My Partner Says
Things My Neighbors Say
Things My Co-workers Say
Things Strangers Say
Things You Can't Say Outloud
Compliments You Are Given
Good Advice
Cool Lists
Clever Comebacks
Weird Facts
Headlines Of The Day
Money Making Phone Apps To Try
Wish Lists
Bucket List Ideas – like 30 before 30 or 40 before 40 bucket list.
Social Media Posts
Most Haunted Places
Names Of Comets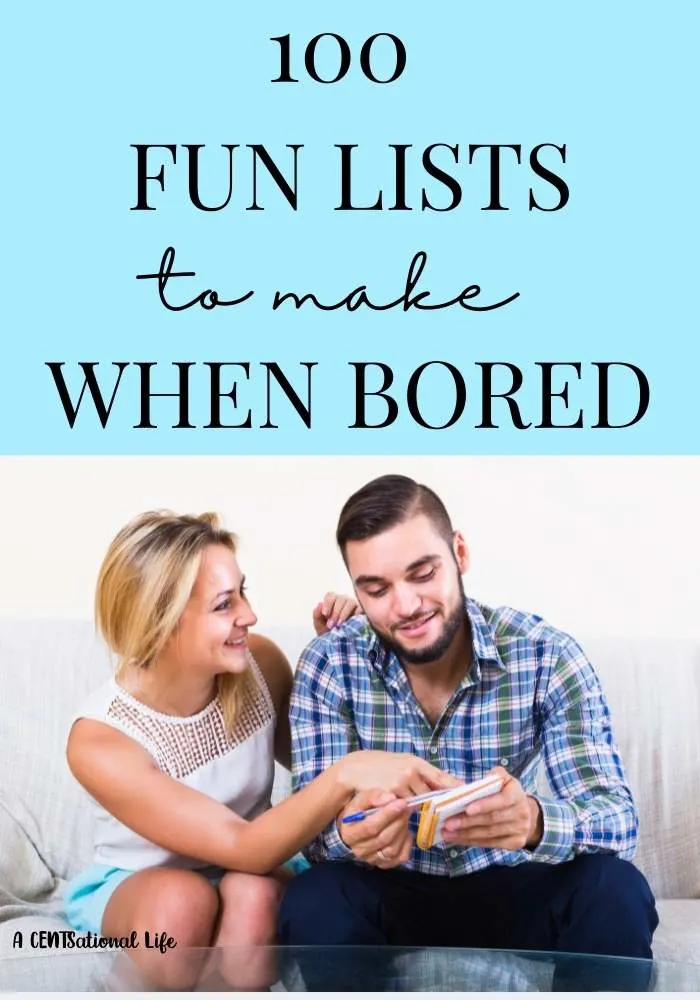 Things To Try List
Crochet Patterns To Try
Crafts To Try
Hobbies To Try
Outfits To Try
New Places To Try
Tutorials To Try
Makeup Products To Try
Restaurants To Try
New Food To Try
Tik Tok Challenges To Try
List Of Names
Names For Dogs
Names For Cats
Names For Fish
Names For Boys
Names For Girls
Pet Names For Your Partner
Names You Hate
Names Of All Your Family Members
Cool Middle Name Ideas
List Of Unusual and Unique Names
List Of Things To Do
Movies To Watch
Movies To Watch Again
Fun Hobbies To Start
Places To Visit
Books To Read
Recipes To Try
Lists To Make For Fun
Fun Facts
Fashion Trends
Childhood Memories
Funniest Cartoons
Ways To Have A No Spend Month
Fun Holiday Traditions
Lists Of Favorites
Favorite Childhood Games
Favorite Games Now
Favorite Throwback Songs
Favorite Desserts
Favorite Colors
Favorite Netflix Shows
Favorite Spices
Favorite Smells
Favorite People Ever
Favorite Animals
More List Ideas
List Of Firsts In Life
Lists Of Tattoo Ideas
Facts Of Life
What I Learned
Celebrity Crushes
Lists Of Strange Laws
Cool Nicknames
Fun Lists
Lists can be really useful sometimes, but they also can be really fun!
Fun lists are a great way to learn more about yourself and about the world.
I hope you have enjoyed some of the best fun lists for you to explore.
Let me know in the comments what list of things you write when you are bored.
Sign up to get more fun list ideas sent to your inbox!